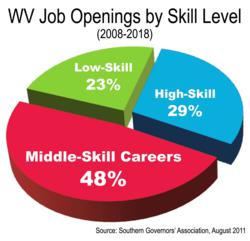 These technical and manufacturing careers hold bright futures in our state.
CHARLESTON, W.Va. (PRWEB) August 31, 2012
EarnMoreWV is a new campaign promoting West Virginia's in-demand manufacturing careers and the two-year training programs that can help students get them.
Sponsored by the West Virginia Community and Technical College System (WVCTCS), the West Virginia Development Office and WorkForce West Virginia, the EarnMoreWV campaign showcases high-demand manufacturing careers such as drafting, machine tool technology, chemical plant operation and mechatronics that pay $40,000 or more, yet go unfilled.
"These technical and manufacturing careers hold bright futures in our state," said Governor Earl Ray Tomblin.
A Southern Governors' Association study found that middle-skill jobs in key manufacturing fields are growing because the current workforce is retiring and there are not enough people going into these fields. The demand for these jobs is increasing, with 48 percent of West Virginia's job openings projected to be in these fields.
"These middle-skill jobs require training available through our community and technical colleges," Tomblin said. "These fields offer job opportunities and security for individuals and their families."
WVCTCS Chancellor James Skidmore said that West Virginia's community and technical colleges offer hands-on training specific for these careers that is affordable, fast and convenient.
"Our programs produce graduates who can walk out of the classroom and into a career. Many students intern during their studies and have a job waiting for them," said Skidmore. "A degree or certificate from a community and technical college can be earned in two years or less, at an affordable cost. Meanwhile, our campus locations are across the state, providing easy access to students who want to stay close to home."
The EarnMoreWV.com campaign offers the chance to win one of two, two-semester WVCTC scholarships by submitting a video of West Virginia dream jobs. Visitors to the EarnMoreWV Facebook page are encouraged to become fans, share posts and enter to win $10 iTunes gift cards, two awarded daily.
The campaign website http://www.earnmorewv.com, highlights in-demand manufacturing careers, success stories of recent WVCTC graduates and current job openings in these fields. The campaign runs throughout the fall. The video contest deadline is November 30, followed by judging and the announcement of the two scholarship winners in the New Year.