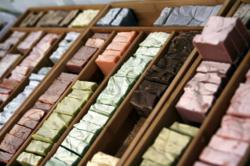 Each 5-ounce Goat Milk Stuff soap bar contains a full ounce of pure goat milk to bring creamy goodness to skin.
Charlestown, IN (PRWEB) August 31, 2012
Sensitivity to scented soaps is a problem for many, so Goat Milk Stuff offers a popular line of unscented all-natural goat milk soaps and lotions for people who should avoid scented soaps, available online at http://www.GoatMilkStuff.com,
While Goat Milk Stuff offers an array of scented soaps, the popularity of its unscented soaps, such as its top-selling Purity brand or very gentle Organic Castile soap has increased steadily among people with skin sensitivities or who may have skin problems such as eczema or psoriasis.
PJ Jonas, the mom of 8 who founded Goat Milk Stuff after starting to make natural soaps for her young children on the family's small Indiana farm, says, "Each 5-ounce Goat Milk Stuff soap bar contains a full ounce of pure goat milk to bring creamy goodness to skin."
Goat Milk Stuff most popular unscented soaps are:

Purity Soap, at $5.50 for a 5-ounce bar, is the purest of soaps for those with extremely sensitive skin or people who are sensitive to fragrances. Without added fragrance or color, Purity is plain good-for-your-skin goat milk soap that many customers use for babies or people with eczema.
Purity Scrub, at $5.60 for the long-lasting 5-ounce bar, is unscented goat milk soap with rolled oats that benefit skin in the same way the Purity brand does, but with added oatmeal that can help relieve itching.
Organic Castile, at $6.60 for the 4.5-ounce goat milk soap, made with extra virgin olive oil as the oil-fat portion rather than vegetable oils used by many companies claiming to offer organic castile. The olive oil makes Goat Milk Stuff Organic Castile extremely gentle with a wonderfully soft lotion-like lather.
Other popular unscented soaps in bars ranging in size from 4-1/2 to 5-1/2 ounces and costing from $6.50 to $7.50 a bar, include Calendula, infused with the calendua flower typically used in herbal remedies for cuts, bruises and inflammation; Jewelweed for Poison Ivy made with the jewelweed plant often used by herbalists to relieve poison ivy symptoms and recommended before and after trips to areas where poison ivy may be prevalent; in addition to an unscented shampoo bar with rosemary and nettles along with essential oils designed to help repel bugs for dogs. For cats, Goat Milk Stuff recommends the scented version.
PJ Jonas said, "We're proud people with sensitive skin use our goat milk soap and tell us about the relief they have from their symptoms."
She added, "A person with extremely sensitive skin should test our unscented soap on a small patch of skin first to see how the skin reacts. Some people find that their sensitive skin is able to handle scented soaps while others need to remain with an unscented one."
Goat Milk Stuff soaps, lotions and other products are all-natural and chemical-free and made by the Jonas family of PJ and Jim and their 8 home-schooled children, aged 5 to 15, each of whom helps in an age appropriate way to bring the best quality soaps to the family's growing number of customers.
Media reported about the Goat Milk Stuff product line, including NBC's Today Show online at http://www.tinyurl.com/cjcmgc3, Oprah Magazine, Bloomberg News, the Joan Hamburg Show and others.
Based in Charlestown, Indiana, Goat Milk Stuff markets natural goat milk Soaps, Lip Balms, Lotions, Bath Bombs and Laundry products at GoatMilkStuff.com and quickly ships a full range of products directly to consumers. For media, licensing and entertainment, contact Brian Dobson at DobsonPR.com or BD (at) DobsonPR.com.