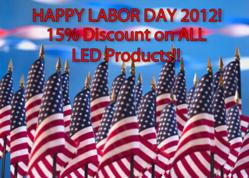 As summer draws to a close, commemorate Labor Day 2012 with a brand new LED installation from Solid Apollo!
Seattle, WA (PRWEB) August 30, 2012
Solid Apollo, is a Global Leader in LED Lighting Technology and offers great product selection and advance control systems to create cutting edge LED installations. Solid Apollo stands at the top by offering incredible pre-sale and post-sale technical advice, wiring diagrams, configurations, product design and implementation. Celebrate Labor Day 2012 by finally taking a step into the future with long-lasting, energy-saving, reliable LED Lighting.
As summer draws to a close, commemorate Labor Day 2012 with a brand new LED installation from Solid Apollo. The time has come, it's here now, no longer can you sit idly by on the sidelines as LED Technology becomes affordable to the masses. Labor Day Weekend 2012 is the right time to get in on the ground floor of LED Technology.
Install Labor Free 120V LED Strip. Enjoy the last of the summer weather, and install Waterproof/ Weatherproof 120V High Quality LED Lighting for your deck or patio. Finally, an easy way to light up decks, porches, patios, around trees and bushes, banisters, etc. With the ability to light up to 165 feet continuously, Outdoor Deck and Hospitality Lighting has never been easier to install. Easy to use with just one connection, this LED Strip is normally $39.00 per section, now $33.15 for the first section, and successive sections drop in price the more you purchase.
Solid Apollo LED offers a fantastic variety of LED Lighting Kits that come with everything you need to make the LED's work right out of the box. As a commitment to giving the customer what they want Solid Apollo has developed LED Kits that are practical as well as reasonably priced. Our dimmable, solid-color LED kits are normally $99. During Solid Apollo's Labor Day Discount Sale the price drops to $84.15. Also available in color changing, red, green, blue, white, warm white, daylight white, even waterproof and hi-brightness. These LED kits include a dimmer and power transformer. Great for most lighting options around the house like cove lighting, under-cabinet lighting, hallway lights, picture frame backlight, flat screen backlight, kitchen backsplash; the possibilities are endless.
Solid Apollo LED Company offers the best selection for a HUGE range of LED products including all the LED Control Systems needed to make any installation truly unique. Solid Apollo can custom-design any lighting solution, as well as manufacture that product at its factory. This solution gives an added advantage by offering products not currently available on the market, customized to fit a specific installation.
As a commitment to the success of every lighting design project no matter the size, Solid Apollo offers excellent customer care. Solid Apollo will help assure products are installed correctly & work properly. Utilizing a network of extremely talented lighting experts, Solid Apollo will recommend the correct product for each job and help to make installation simple and effective. Because it is easy to install and enjoy anywhere, LED Lighting is subtle elegance. Do not be afraid to dream big and strive for perfection this Labor Day. The friendly team at Solid Apollo is standing by, ready to apply their knowledge and support to make it happen.
About Solid Apollo.com: Solid Apollo is a cutting edge LED lighting company which designs produces and distributes a wide range of High Quality LED Lighting Products and lighting solutions to meet today's ongoing, new generation, lighting demands. For more information and to order online, visit Solid Apollo at http://www.solidapollo.com or call toll free 866-592-3873.