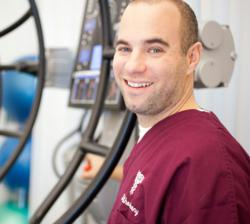 New York, NY (PRWEB) August 31, 2012
Dr. Steven Shoshany, one of NYC's top chiropractors, has been recently distinguished by Today's Chiropractic Lifestyle, a leading trade publication, as part of the next generation of chiropractic leaders.  This honor has been awarded to an exclusive group of young doctors of chiropractic who are committed to elevating and advancing the profession within their disciplines and communities.
Out of the 13 outstanding doctors of chiropractic who are featured and dubbed by Today's Chiropractic Lifestyle as chiropractic's "cream of the crop", Dr. Shoshany is the only one practicing in Manhattan.  Dr. Shoshany's exclusive non-surgical spinal decompression procedure, which is highlighted in the article and is one of his signature treatments, is a revolutionary protocol that corrects disc bulges and herniations for optimal spinal health.  Dr. Shoshany was chosen as one of today's most remarkable chiropractors because he practices a holistic approach to health, which is deeply rooted in the spine, since the structure houses the major component of the central nervous system, the spinal cord.  Dr. Shoshany has a keen understanding of the connection between spinal condition and overall health, and has devoted his career to educating and treating patients on the importance of maintaining a healthy spine in order to achieve the best possible physical health. 
Dr. Shoshany specializes in providing treatments that help restore the body's natural abilities for self-healing by correcting a wide range of spinal misalignments, dysfunction, and disorders that can manifest in the form of discomfort and, pain within the body.  By reestablishing the spine to its normal, proper alignment, Dr. Shoshany assists in creating the proper conditions for the body to regain its prime vitality and health.  Through a variety of specialized non-surgical treatments, Dr. Shoshany has been able to safely and effectively treat patients in NYC suffering from various types of back pain, neck pain, sciatica, knee pain, joint pain, and many other conditions, ranging from mild to devastating and immobilizing.  Additionally, Dr. Shoshany has helped countless patients avoid invasive surgical procedures as well as post-surgical patients who were still in search of long-term relief that was unattainable through surgical treatments.
At his state-of-the-art NYC physical rehabilitation facility, Dr. Shoshany offers the latest in non-invasive treatments, designed to naturally restore each patient's strength and well-being.  Some of the most notable treatments offered at Dr. Shoshany's practice include non-surgical spinal decompression, chiropractic adjustments, Active Release Technique®, Graston Technique®, cold laser therapy, and more.  Dr. Shoshany's staff is also highly experienced in supplemental treatments such as physical therapy, massage therapy, acupuncture, and pain management.  For additional information on Dr. Steven Shoshany and the full range of treatments offered at his practice, please visit http://www.drshoshany.com or contact 212-645-8151.
ABOUT DR. STEVEN SHOSHANY, DC: Regarded as one of Manhattan's top chiropractors, Dr. Steven Shoshany is an internationally-recognized pioneering innovator in the field of spinal decompression, being one of the first doctors to offer the revolutionary non-surgical treatment in New York City. A graduate of Life University's class of 1996, Dr. Shoshany is certified in Active Release Techniques (ART) and has been successfully practicing in the downtown Manhattan area since 1999, where he currently resides with his wife and children. Dr. Shoshany has been featured as an expert in several publications and television shows, including CBS This Morning, NBC's Today, and The Dr. Oz Show.