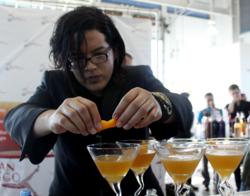 Being a mixologist puts so much emphasis on style and technique that at times it's simplicity that makes the best cocktails
San Diego, CA (PRWEB) August 31, 2012
The 2012 The San Diego Spirits Festival August 25 -26 was the perfect blend of high end domestic and international spirits, top mixologists and master chefs all in one perfect location.
Title Sponsors: B&I Overseas Trading with both Ozone Vodka – Certified Kosher and "Lithuanian vodka Gold – Black Edition" delicate and crystal clear.
Platinum Sponsor: The Unified Port of San Diego and the San Diego Tourism & Marketing Board
Event highlights:
Bartender Battle: Twelve talented bartenders - competed in 4 elimination rounds in front of an esteemed panel of industry judges; Henry Preiss, Johnny Schuler, Jeff Josenhans, Kyle Hall, Scotty Wagner and Adam Stemmler. The competition was intense – competing Bartenders: 2011 winner Mike Yen, Jabriel Donohue, Nate Howell, Oscar Takahashi, Lea Baffin, Antonio Gonzalez, Evgeny Anisimov, Chris Simmons, Barbra Tunison, Lee Burgower, Andrew Bennington and Jason Griffin were challenged to use only the products in front of them, in 4 elimination rounds. The final round was close, with only one point between the Winner Oscar Takashi and Nate Howell, which was followed closely by Antonio Gonzalez and Jabriel Donohue. First prize awarded from Silver Sponsor RestaurantConnect! http://www.restaurantcx.com.
The 2012 San Diego Spirits Festival welcomed cooking demonstrations with Spirits by Executive Chefs from leading local restaurants. Participating Chefs: Keegan Gerhard of D Bar, Katherine Humphus of BO-beau kitchen and bar, Kevin Harry of KELVIN at W San Diego, Karl A. Prohaska of Handerly Hotel, Alberto Morreale of Fig Tree Café; Brandon Brooks of Sol Markets, Martin Gonzalez of Acqua Al2, Larry Malone of Empire House, Davin and Loren Waite of Pickled Ginger in tandem, Kaitlin Jaime of PubCakes and David Chenelle of Consumate Catering.
Master Distiller Johnny Schuler joined the celebrity chefs creating dishes with Pisco Porton. Chef Tyler Stone brought the house down with his molecular mixology and his cooking demonstrations.
Ron Jeremy caused quite the scene when he made his guest appearance on Saturday.
The 2012 San Diego Spirits Festival transformed every cocktail desire into a reality with some of the hottest brands, as brand ambassadors teased with the 2012 featured brands: Ozone Vodka, Lithuanian Gold Vodka , Pisco Porton, Milagro Tequila and Hendricks's Gin, Tatra Tea, Berentzen Liquors, Pink Pigeon Rum and Chinaco, Conjure Cognac, Innovation Brands, Quint Sangria, and Tequila El Cartel, Java Juice, Double Cross Vodka, Distillery 209 Gin, Quint Sangria, Quick Strain Tinis, Naughty Cow Liqueur, Twisted Shots, Ron de Jeremy Rum, Magners Irish Cider, 619 Vodka, VeeV, Bendistillery' s portfolio of award-winning small batch American vodkas and gins including Crater Lake Vodka, Cascade Mtn Gin, Mazama Vodka, Cofia Vodka, Semental Tequila, Mezcal Los Javis, Alquimia Organic Tequila, La Nina del Mezcal, Tequila Tres Mujeres, Tequila Fortaleza, Agwa Cocoa Leaf, Mickey Fin Whiskey, Jailers Premium Tennessee Whiskey, Breakout American Rye Whiskey, Forbidden Secret American Cream Liqueur, Fee Brothers Mixers, Partagas Cigars, Naked Juice, Joia All Natural Soda, and Icelandic Water.
Over the two days the participants used 6,000 lbs. of ice and over 600 lbs. of recyclables were recovered by The 1 to 1 Movement.
Guests were entertained on pier setting by: Alas de Mosca, Alex Arndt & Sonic Universe; Bruce Sanborn Band, Dirty Minds, Flash Point Rocks, Funky Munky, Jamilla, Latex Grenade, Mathew Zeltzer, Sacha Boutros, The Rebel Light.
About San Diego Spirits Festival:
San Diego Spirits Festival was founded and launched in San Diego in 2009 by Liz Edwards. San Diego Spirits Festival is a nationally acclaimed celebration of cocktail culture, and is the premiere West coast spirits festival held on the beautiful San Diego bay. With bartender competitions, tastings, seminars and parties, the festival offers a one-of-a-kind opportunity for brands to be supported and gain recognition among San Diego's cocktail and culinary community and beyond.