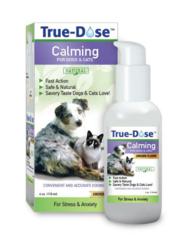 We're delighted that True-Dose stepped forward to make this donation
St. Louis, MO (PRWEB) August 31, 2012
Helping Out Pets Everyday, Upland, was one of 30 animal welfare organizations to receive a supply of True-Dose Calming Pet Supplement, thanks to a grant from ENB Science in partnership with the Petfinder Foundation. True-Dose Calming is designed to help pets who may be exposed to environmental stressors and/or suffer from anxiety, both conditions that often affect shelter animals.
The True-Dose Calming Pet Supplement utilizes a patented delivery mechanism that ensures that each pet gets the precise does for his or her weight.
"The relief this product can offer to anxious shelter pets will give them a greater chance of being adopted," said Toni Morgan, Petfinder Foundation program manager. "We're delighted that True-Dose stepped forward to make this donation." All grant recipients post their pets on Petfinder.com, the largest database of homeless pets on the web.
The Petfinder Foundation, a nonprofit 501(c)3 public charity, helps homeless pets by saving lives through adoptions, helping shelters prepare for and recover from disaster and working to make sure animal welfare organizations across the country are more sustainable. Its mission is to ensure no adoptable pet is euthanized for lack of a home. Since 2003 the foundation has provided over $20 million in grants to animal welfare organizations and Petfinder.com member shelters and rescue groups.