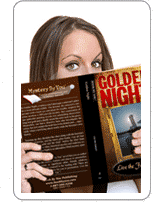 A one-of-a-kind Book By You personalized romance novel makes the perfect romantic anniversary gift
London, ON (PRWEB) August 31, 2012
Looking for romantic anniversary gifts for the perfect husband or wife? A creative way to make paper anniversary gifts extra special? Something unique that will also stand the test of time, and incorporate beloved anniversary gift themes? Sweep them off their feet with a steamy personalized romance novel from Book By You, the world's leading publisher of personalized books.
The first year of marriage is an exciting one, and there are plenty of anniversary gift options for book lovers that chronicle the ups and downs of settling into a lifetime of love and commitment. An exciting personalized anniversary gift answer to the "What to get?" question, Book By You has something for every taste! Traditional romance fans will love titles like the delectable cake-walk Wedding Favors, the funny romantic comedy Love's Next Door, or Click For Love, an especially fitting romantic romp for all those happy couples who met through the internet dating phenomenon. For reality TV addicts, we've got Tropical Treasure, a heated tale of competition and, of course, true love. Got a medical drama fan to shop for? ER Fever will drive their heart rate through the roof! Western Rendezvous makes the prefect anniversary gift for a cowboys and girls, and Racing Hearts will take NASCAR lovers all the way to the finish line! Sci-fi/Fantasy fans will devour our space age page-turner Starstruck, and provocative novels like Vampire Kisses and Fierce Moon will have paranormal fans' blood running hot. By Magic Bound will cast a spell over dventure loving witches and wizards, and swarthy swashbucklers can ride waves of passion with Pirates of Desire. Mystery lovers can uncover more than just clues with Golden Night, while classics like Jane Austen's Emma or Pride and Prejudice make excellent first anniversary gifts for literature lovers.
Mike Pocock, founder of Book By You, says, "With all of our thrilling options, a one-of-a-kind Book By You makes the perfect romantic anniversary gift. Unwrap one of these seductive romances, and your paper anniversary is sure to be one you'll never forget!" And he's right, of course. Book By You offers personalized books to curl up with and get lost in, and with our plethora of specialized titles, we'll create a personalized anniversary gift that will remain a favorite through the golden anniversary and all the years beyond! What better way to say "I love you, and I'll love you forever," than a sensuous, titillating personalized novel starring husband and wife? Play out juicy fantasies, bring darkest desires to light, or just get the romantic ball rolling with this personalized anniversary gift—it'll be a gift to remember, happy ending and all!
Readers personalize their selection by providing specific information like loved-one's names, features, even favorite drinks and places, and over twenty-five other unique characteristics to make their fantasy world a reality. A spouse, friends, family, and even beloved pets can be included, too! The result is a full-length paperback or hardcover that can be further personalized with a one-of-a-kind cover and special uploaded photo for the back cover, adding up to the ultimate, unforgettable personalized anniversary gift.
To purchase a personalized paper anniversary gift, romance savvy husbands and wives go to the company's website at BookByYou.com and complete a character questionnaire specifying the information to be included in their book. The company even offers a free demonstration area where readers can preview personalized excerpts from the company's personalized books.
BookByYou.com has received nation wide media coverage and been featured on ABC's The View, CNN, Fox News, The Wall Street Journal, Jimmy Kimmell Live and many additional media outlets. You can even find us on YouTube!
BookByYou.com is an interactive publishing company and is the world's largest provider of personalized books. Media interviews, promotions and give-aways are available upon request. Please contact Michael Pocock at 1-877-898-1440 or publish(at)BookByYou(dot)com.