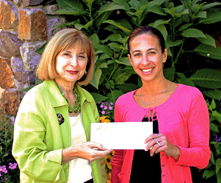 "We are so honored to have been chosen by Peju as the beneficiary of their recent sales promotion, and are grateful for their support of our services to the local community."
-- Joanne Sutro, Director of Development & Communications
Rutherford, California (PRWEB) August 31, 2012
During the months of May and June, Peju Province Winery held a fundraising campaign aimed at honoring Mothers and Fathers. Proceeds from the campaign went toward providing financial aid to local charity Napa Valley Hospice & Adult Day Services.
On August 10th Ariana Peju presented a check for $5,931.77 to Joanne Sutro, Director of Development & Communications of Napa Valley Hospice & Adult Day Services. The funds raised will go toward providing care for patients with life-limiting illnesses, and to continue to make the day program available to adults with disabling dementia or physical limitations.
"I had a personal experience with Napa Valley Hospice more than ten years ago when they helped care for my grandfather. It is very difficult to lose a loved one and it makes such a difference to have an organization with genuine, dedicated professionals to help local families. We chose to work with NVHADS as a way to honor the many mothers and fathers of Napa County who are approaching the end of life and are often not in a position to receive the valuable human health services that they and their families need," said Ariana.
Today, 5.4 million Americans are living with Alzheimer's disease and Alzheimer's is the fifth leading cause of death in Napa County*. Napa Valley Adult Day Services is the only licensed Adult Day Health Care program and designated Alzheimer's Resource Center for Napa County.
About Peju Province Winery:
Established in 1982, Peju is a family-owned and family-run winery located in Napa Valley's Rutherford Appellation. Peju is a certified green business and produces award-winning wines from its organic and sustainably farmed vineyards and solar powered winery facility. The majority of Peju wines are offered directly to guests in the tasting room and through the Peju Wine Club. The tasting room, art gallery and gardens are open daily from 10 a.m. to 6 p.m. and are located at 8466 St. Helena Hwy, Rutherford, CA.
About NVHADS
Napa Valley Hospice & Adult Day Services provides exceptional professional healthcare and expert resources in caring for the individual and their family through chronic conditions, symptoms of aging, illness, death and bereavement. NVHADS is a 501(c)(3) not-for-profit organization licensed by the California Department of Public Health, Medicare and Medi-Cal. NVHADS is also designated as the Alzheimer's Resource Center in Napa County by the California Department of Aging. For more information, please visit: http://www.nvhads.org
Sources:
Alzheimer's Disease Facts and Figures, Alzheimer's Association, March 2012
Napa County Health and Human Services Report, 2008