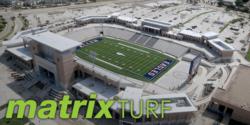 Hellas has the best product on the market today.
ALLEN, Texas (PRWEB) August 31, 2012
Allen High School's new stadium has captured national attention, because everything about the stadium is remarkable. The 3,000 square-foot HD scoreboard, bleacher seating for 18,000 fans, and luxury suites – this stadium has it all. Including the famous synthetic turf the Dallas Cowboys play on at Texas Stadium – Matrix® Turf.
Tonight, the turf, the stadium and two Texas high schools kick off their football season in the recently completed $60 million dollar facility in Allen, TX. Underneath the two teams: a 90,000 square-foot, premium-quality artificial grass system known as Matrix Turf.
Hellas Sports Construction designed Matrix Turf to deliver a consistent playing experience for athletes at all levels of their game. In addition, the natural-looking finish and unique blend of grass colors provide enhanced light deflection – for those bright 'Friday Night Lights'.
Allen ISD's Athletic Director, Steve Williams, commented that, "Hellas has the best product on the market today. You hear people say they are Chevy people. Some say they are Ford people. We are Hellas people."
The opening game starts at 7:30 p.m. when the Allen Eagles will host the Carroll Dragons (Southlake, TX) and face off in the sold-out Eagles Stadium. The expected attendance for this inaugural game is 22,000.
Matrix Turf is an exclusive innovation of Hellas Sports Construction. Hellas specializes in the general construction of sports facilities and manufacturing synthetic sport surfaces for various sports. Hellas controls all business operations, delivering quality athletic surfacing products directly to customers. For more information visit: http://www.hellasconstruction.com.