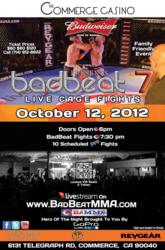 I'm excited to get back in the cage - Virgil Zwicker
Santa Ana, CA (PRWEB) August 31, 2012
BAMMA USA announces the Main Event for Badbeat 7 presented by Budweiser as a battle of a current and a past roster fighter of the Strikeforce Mixed Martial Arts promotion. Virgil 'Rezdog' Zwicker will face Mike 'The Animal' Cook as the headliner fight for a scheduled 13 bout fight card. The event will take place at the World Famous Commerce Casino (Commerce, CA) on Friday, October 12, 2012. First fight starts at 7:30pm PST. Tickets are available now for purchase and internet viewing** available by visiting http://www.BammaUSA.com
About Virgil 'Rezdog' Zwicker (10-3)
Current Light Heavyweight Strikeforce Mixed Martial Arts roster fighter Virgil Zwicker brings his 10-3 MMA record to the BAMMA USA cage on Friday, October 12, 2012. The self-described Kummeyaay Indian from the San Pasqual Indian Reservation (North San Diego County) is a member of Team Quest in Temecula, CA. The former heavyweight debuted in Strikeforce in October of 2010 on a short notice bout against UFC vet Lavar Johnson. Zwicker rebounded from that first round KO loss by winning his next fight by first round TKO (punches) against, then undefeated, Brett Albee at "Strikeforce: Diaz vs. Daley" on April 9, 2011. Virgil Zwicker made the move to the Light Heavyweight Division on the "Strikeforce: Barnett vs. Cormier" event, suffering a Unanimous Decision loss to Carlos Augusto Filho on May 19, 2012. Zwicker holds notable victories against Strikeforce Light Heavyweight contender Ovince St. Preux and Heavyweight Brett Albee. Virgil is "excited to get back in the cage" as he looks to get back into the win column at Badbeat 7 presented by Budweiser and even his record in the light heavyweight division.
Twitter: @virgilzwicker
About Mike 'The Animal' Cook (12-10)
Mike Cook is an active heavyweight fighter averaging 3 fights a year since turning pro in 2006. He has faced notable opponents such as current Strikeforce roster fighter Lorenz Larkin, Daniel Puder, Bobby Lashley, and Strikeforce veteran Trevor Prangley. Cook is coming off a TKO (Doctor Stoppage) loss to Strikeforce vet Trevor Prangley in August of 2012. Fighting out of Team Ruiz in Fresno, CA, 'The Animal' looks to start his own win streak in the Light Heavyweight Division at Badbeat 7 presented by Budweiser. One thing is almost guaranteed, a finish. Out of Mike's 22 professional fights, only one has gone to a decision, and that was in 2009. In fact, his last 13 fights have seen a KO, TKO, or Submission finish.
Ticket prices are $60, $80, or $120 per person. Online ticket orders available through TicketForce or visiting http://www.BammaUSA.com. Please contact BAMMA USA for VIP Tickets ($130 or $150 per person) or VIP Table for 4 people ($700 per table) by calling 714.912.8822. A limited number of discounted $80 seats are available for $60 by "PHONE IN ORDER ONLY" by calling 714.912.8822.
In response to its growing national and international fan base, BAMMA USA will broadcast Badbeat 7 live on the internet via Livestream's upgraded platform New Livestream. Internet viewers will be asked to join New Livestream directly or sign in through their Facebook account to enjoy the free telecast**.
**=Blackout restrictions will apply locally
Badbeat 7 presented by Budweiser
Friday, October 12, 2012
Commerce Casino
6131 Telegraph Road
Commerce, CA 90040
Doors open at 6:00pm PST
First fight at 7:30pm PST
Main Card*
Main Event- 205 lbs: Virgil 'Rezdog' Zwicker (10-3) vs. Mike 'The Animal' Cook (12-10)
*=Fight Card Subject To Change
About BAMMA USA
BAMMA USA is a Mixed Martial Arts (MMA) promotional company specializing in creating live entertainment featuring both professional and amateur combatants. Currently stationed out of Southern California, BAMMA USA promotes the area's top local talent from mixed martial arts gyms such as CSW, Knuckleheadz Boxing & MMA, Elite MMA, Kings MMA, PKG, Joker's MMA/Lightning MMA, The Bodyshop, Reign Training Center, Total MMA Studios, Ace Jiu-Jitsu, Cobra Kai, Gracie Morumbi, Cesar Gracie Jiu-Jitsu Academy, The Arena, Subfighter MMA, as well as many others. BAMMA USA is Southern California's leading mixed martial arts (MMA) organization providing the area with events monthly and opportunities to professional and amateur athletes.
Past and current fighters who have worked with BAMMA USA founder Brett Roberts include: Mike 'Joker' Guymon, Vladimir 'The Janitor' Matyushenko, Joseph 'Leonidas' Henle, Georgi Karakhanyan, Gabe 'Godzilla' Ruediger, Jason Lambert, Chad 'The Savage' George, Albert Rios, 'The Real Deal' Chris Beal, Jack 'The Outlaw' May, Jared 'The Jackhammer' Papazian, and more…
While the promotion prides themselves on their motto: "Keep Moving Forward" the ultimate passion for BAMMA USA is to create an environment in which fighters are truly valued.
Company Information Sources
Internet: http://www.BammaUSA.com
Facebook: BAMMA USA
Twitter: @BammaUSA
Personal Contact Information
CEO
Brett Roberts
info(at)BammaUSA(dot)com
714.912.8822
About TicketForce
TicketForce utilizes a powerful web-based ticketing system to provide venues, promoters, festivals, arenas and civic centers with a fully-customizable solution for full-service ticketing and box office management. TicketForce provides a complete suite of scalable products and services, including EasyTix – offering low, fixed fees, free call center support, and no equipment costs with minimum sales. Sales at http://www.myeasytix.com. All solutions include print-at-home ticketing, electronic will-call, access control, payment processing, management tools, and real-time reporting. More information is available at http://www.ticketforce.com and http://www.myeasytix.com
About Livestream
Livestream is the market leader for live event coverage. With simple to use technology, our service allows anyone to broadcast live to the web, as well as being the top destination for live content from around the world. Our clients include Facebook, The New York Times, ABC News, CBS News, Associated Press, HBO, AT&T, PepsiCo, Electronic Arts, Adidas, The Academy Awards, Warner Bros. Records, and Paramount Pictures.
Livestream operates with over 120 full-time staff members in 4 offices—in New York (headquarters), Los Angeles, Bangalore, and the Ukraine. The service is available for free (advertising-supported) or as a feature-rich, monetizable, premium service for business.
The New Livestream is an innovative new platform that combines live video with real-time photos, text, and video clip updates. The technology supports live blogging all executed with ease using the real-time posting tools from both mobile and the web. Features on the New Livestream include an improved video player and an array of new tools that allow more people to discover your event, interact with it and share it across the web.