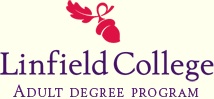 "I have learned from working with the ADP students that regardless of age, background, or circumstance, paying for college can be overwhelming to students "
McMinnville, OR (PRWEB) August 31, 2012
Linfield College Adult Degree Program announces its 2012 Path to Scholarships© workshops this Fall semester for students who want to take advantage of scholarship opportunities but may not know how to start the process.
All workshops are taught by Gerardo Ochoa, Associate Director of Financial Aid at Linfield's Portland campus. Gerardo is Co-author of "College Edition Path to Scholarships® Career, College, and Scholarship Planning Portfolio." Registration for the scholarship workshops will open in September.
Workshops teach students how to organize materials successfully, write winning scholarship essays, and conduct personalized scholarship searches. As a result of taking the class, many Linfield College students are winning scholarships every year. Students who participated in the recent Path to Scholarships workshops have each been awarded an average of over $3,000 in scholarships to complete their online degree. "I am using the materials successfully as a great resource for my quest for scholarships", said Tiffany, a student in the Adult Degree Program.
"I have learned from working with the ADP students that regardless of age, background, or circumstance, paying for college can be overwhelming to students, " said Gerardo. "Many of the students who attended the workshops have incredible stories of obstacles and triumph to tell, but it is challenging to share them in a scholarship essay with total strangers. Whether students are enrolling in college for the first time after graduating from high school, or attending college as working adults, all students need individualized guidance, encouragement, and support with the scholarship process; I believe we accomplished that in the four Path to Scholarships® Workshops."
The workshops will be held throughout the state of Oregon, including Bend, Portland and Salem, as well as a fourth session held as a webinar.
Instructor-led workshops will be held 9:00am – 2:00pm at the following campuses.

10/13 Bend, Central Oregon Community College
10/20 Portland, Linfield College Portland Campus
10/27 Salem, Chemeketa Center for Business & Industry
Our online Webinar will be Saturday, 11/3, 8:30am – 12:30pm
Find out more about the Path to Scholarship workshops on the Linfield Adult Education Blog. If you are interested in viewing scholarship opportunities, the Office of Financial Aid maintains a listing of scholarship offerings from sources outside of Linfield College and provides further information about upcoming workshops. http://www.linfield.edu/dce/scholarships.html
About Linfield College Adult Degree Program
Chartered in 1858, Linfield College is one of the first colleges in the Pacific Northwest and is regionally accredited by the Northwest Commission on Colleges and Universities. The Adult Degree Program offers adults the opportunity to earn a bachelor's degree or certificate in twelve fields of study.
Online programs offered by Linfield College Adult Degree Program include an online management degree, accounting degree, online marketing degree, social sciences degree, arts and humanities degree, RN to BSN degree and international business degree and certificates in accounting, human resource management and marketing.
Press Contact:
Janet Gifford
jgiffo(at)linfield(dot)edu
503-413-7056