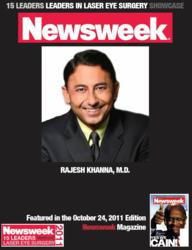 Dr. Khanna dedicated his book to explaining the prelex procedure in its entirety
Los Angeles, CA (PRWEB) August 31, 2012
This week, Prelex Dr. Khanna's first book was released on Amazon. Opening up to great reviews, a number of noteworthy readers, patients, and colleagues took a liking to the book and expressed their appreciation. Readers have been waiting for a book such as this, a book that would analyze important information regarding the prelex procedure and explain its advances. Dr. Khanna created this book in an effort to supply both readers and patients with information regarding the newest and most advanced vision correction procedure, prelex.
Lasik is a term that most are familiar with and needs little explanation. Known as a quick fix to a variety of vision problems, lasik promises enhanced vision abilities and a quick recovery. Prelex however, is a highly advanced procedure that can dramatically improve the vision of people above age forty five. For those that have been interested in the lasik procedure, and have been told they are not candidates, or are too old to benefit from the procedure, prelex may be the solution to aid their vision aliments.
Dr. Khanna dedicated his book to explaining the prelex procedure in its entirety. In the text he explains the basics; such as the human eye, vision, and how it changes overtime. Dr. Khanna also discusses a condition known as presbyopia. In "Prelex" Dr. Khanna defines presbyopia as "the inability of the old, thick, resistant lens, to change shape and focus power." He further explains, "This condition usually begins around the age of 40. As years go by, there is an increased difficulty in reading small print, larger print, and operating computers or cell phones. It worsens progressively over the next twenty years until age sixty, when intermediate vision is lost."
Remarkably most adults are unaware of this change and usually begin to wear reading glasses when they experience these dysfunctional changes in vision. Rather than suffering from poor vision, unsure of its cause, readers are now able to understand exactly what is occurring with their vision, learn about prelex, and how it can improve their lives.
ABOUT RAJESH KHANNA:
Dr. Rajesh Khanna is an internationally recognized LASIK and refractive vision care specialist. He graduated among the top of his class in medical school and is a member of the UCLA faculty. Utilizing his skills to instruct a new generation of eye surgeons on the safest and most effective techniques and procedures, he pioneered many of today's techniques in LASIK and refractive surgery. Khanna invented a variety of instruments to aid in surgeries and speaks at a myriad of national and international professional venues each year. He participates in refractive surgery conferences and wet labs worldwide. Featured extensively in print and broadcast media, he's received prestigious awards and honors from the World Health Organization. He's a member of the American Medical Association, the prestigious American Academy of Ophthalmology and the American Society of Cataract and Refractive Surgery, and certified by the American Board of Ophthalmology.