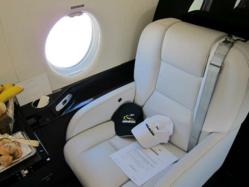 This is backyard BBQ talk about the [private jet charter] business...
Los Angeles, CA (PRWEB) August 31, 2012
The Early Air Way, one of the nation's fastest growing private jet charter providers, has launched its new "private jet charter secrets" blog. The blog, written by the company's CEO, Alex Early, is designed to provide web lurkers with the most honest information about the private jet charter industry that can be found. "This is backyard BBQ talk about the [private jet charter] business, but for the world to see," Early claims. Early invites his readers to suggest industry-relevant topics via e-mail, the best of which he will write an article about and explain to readers the true behind the scenes story regarding their topic.
Current articles include "Jet Cards… What and Why?", which takes apart the concept of fractional private aviation and pre-paid cards, as well as the highly popular "Empty Legs, what's the real story?", which explains the whole truth and nothing but the truth about so called "empty legs" which the media has popularized in recent time.
Alongside casual banter about the jet charter industry, the private jet charter blog will also offer travel tips, information about various aircraft types, and feature other information relevant to the private jet traveler. The blog can be found on the company's homepage at http://www.theEarlyAirWay.com.