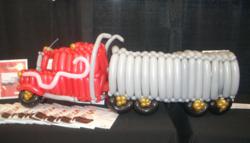 Women In Trucking Association represents over 2,000 individual and corporate members.
Plover, WI (PRWEB) August 31, 2012
The mood was festive as Hanky the Clown entertained the crowd with balloon figures and face painting and some lucky winners won door prizes provided by the event sponsors. Nearly 80 attendees enjoyed the birthday cake served alongside WIT's signature chocolate fountain. Board director, Laura Roan of Hyundai Translead, thanked the group for their support and talked about some of the group's past accomplishments.
The nonprofit organization represents over 2,000 individual and corporate members in the United States, Canada, Puerto Rico, Australia, United Kingdom and Sweden. Some of the accomplishments of the group include the annual "Salute to the Women Behind the Wheel," to honor professional female drivers, the "Influential Woman in Trucking Award," the anti-harassment employment guide and the formation of the charitable foundation.
Attendees were generous in their support for the Women In Trucking Scholarship Foundation. Joyce Brenny, who serves on the foundation board of directors urged the audience to contribute to the charitable organization, formed to provide scholarships to association members seeking training in areas of safety, maintenance, leadership or driving. Charitable donations can be made on the foundation's website at http://www.womenintruckingfoundation.org.
Brenny was also honored this past March as Women In Trucking's 2012 Influential Woman in Trucking, Sponsored by Navistar and currently serves as the Minnesota Trucking Association's Chairwoman.
Navistar was the lead (Gold) sponsor for the celebration, accompanied by Brenny Transportation, Inc., Hyundai Translead, Rand McNally and Waste Management as Silver Sponsors. ABC Weight Loss System, Apex Capital Corp, Arrow Truck Sales, J.J. Keller & Associates, Inc., Paramount Freight Systems/ABCO Transportation also sponsored the party as Bronze level supporters.
The event was held in conjunction with the Great American Trucking Show (gatsonline.com).
Women In Trucking (womenintrucking.org) was established to encourage the employment of women in the trucking industry, promote their accomplishments and minimize obstacles faced by women working in the trucking industry. Membership is not limited to women, as sixteen percent of its members are men who support the mission. Women In Trucking is supported by its members and the generous support of Gold Level Partners; Bendix, Daimler Truck NA, Frito-Lay North America , Great Dane Trailers, Hyundai Translead and Walmart. For more information visit http://www.WomenInTrucking.org or call 888-464-9482.