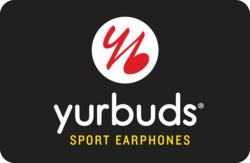 "yurbuds users are unique, engaged, social people and this app is designed to be a challenging, but enjoyable, way to motivate them," said Daniel DeVille, Director of Marketing for yurbuds.
ST. LOUIS (PRWEB) August 30, 2012
yurbuds®, maker of the sport earphones featuring FlexSoft and TwistLock™ technologies guaranteed to never hurt or fall out, continues to motivate and engage its fans through social media by introducing a mobile fitness gaming app – GoBeyond.
Being the sport earphones made by athletes for athletes, yurbuds created GoBeyond for athletes that participate in intense, endurance-focused training sessions. With challenging badges awarded for completing such workouts as running a 5k in less than 25 minutes, the app will allow users to engage with and challenge their friends to better their athleticism and push beyond personal barriers.
"As a company we are always seeking out ways to meet and exceed consumer demands and further enhance the workout experience" said Daniel DeVille, Director of Marketing for yurbuds. "We are not just a sport earphone company; we are a company that wants to make you the best athlete you can be."
While fitness gaming apps are not uncommon in the app market, yurbuds' GoBeyond app answers the growing need to create an app with truly challenging workouts for athletes already pursuing a triathlon or training for marathons. As athletes push themselves, points are awarded and badges are earned, creating the opportunity to directly challenge other users socially – a new field for fitness apps.
Recently holding a successful photo app contest centered on its #BEYONDTHEWALL campaign, the company was eager to continue its yearlong pursuit of growing the interactive identity of yurbuds. The #BEYONDTHEWALL photo app contest announced two winners who will be sent to the Ironman Championship in Kona, Hawaii this October. The company's Facebook and Twitter pages have been applauded for their constant interaction and quick growth, specifically from organic methods.
"Over the past few years we've really gotten to know our users," continued DeVille. "We think they will have a blast training with this app. yurbuds users are unique, engaged, social people and this app is designed to be a challenging, but enjoyable, way to motivate them."
Each yurbuds model is designed to contour to the human ear so they are comfortable and provide premium sound quality, even while in motion. Designed as true sport equipment, yurbuds are sweat proof, water resistant and allow ambient noise, such as passing cars, to be heard. For more information on yurbuds, go to yurbuds.com.
About yurbuds
yurbuds was founded in 2008 by Seth Burgett, President and CEO, an active triathlete and Richard Daniels, COO, a 24-time marathoner. Burgett and Daniels left their corporate roles and joined forces to improve personal performance. They have been joined by Craig Ceranna, CFO and Managing Director, to realize the company's mission: transform the athlete's experience through personalized service and exceptional audio products that integrate ergonomics and emotive design.
Burgett developed his award winning idea for personally-sized earbuds while training for an Ironman 70.3 triathlon. An avid runner and triathlete, Burgett found that his earphones were painful and very often fell out of his ears during training. Utilizing his background in minimally invasive surgical devices, Burgett and his team, including audiologists and industry design leaders, developed a patented ergonomically designed earbud enhancer that could be personally sized through the use of proprietary imaging technology. The resulting product, yurbuds, is an ergonomically brilliant, acoustically driven headphone which is guaranteed not to fall out, even at extreme activity levels, while still providing an unparalleled level of comfort and fidelity.
As a company, yurbuds was named Forbes 9th Most Promising Company in America for 2009. yurbuds has also won awards for its products and marketing, including a 2010 GOOD DESIGN AWARD and 2011 "Site of the Day" for Awwwards.
Ironman is a registered trademark of World Triathlon Corporation. Used here by permission.
###
Media Contact: April Hundza, Martz Agency, ahundza(at)martzagency(dot)com, 480-998-3154