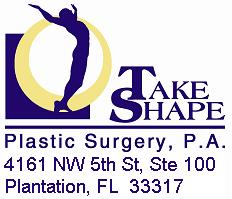 My favorite part is being able to deal with patients of all different ages and all different backgrounds and being able to connnect with the patient.
Fort Lauderdale, Florida (PRWEB) August 31, 2012
Christopher J. Low, M.D. recently spoke on joining the team at Take Shape Plastic Surgery in Fort Lauderdale, Florida. He brings a wealth of experience and training in plastic and reconstructive surgery to the group. He joins Dr. Russell Sassani and Dr. George Dreszer in continuing an established reputation providing superior cosmetic and reconstructive surgical results.
Dr. Low is a fully trained General Surgeon, Plastic & Reconstructive Surgeon and Microvascular Surgeon. He was born and raised in New Jersey and attended New Jersey Medical School – University of Medicine and Dentistry. He excelled throughout medical school, having graduated in the top 10% of his class and was elected to the prominent AOA honor society. After medical school, he went on to complete five years of general surgery training at University of Miami – Jackson Memorial Hospital. Upon completion of his general surgery training, he was selected to train in Plastic and Reconstructive Surgery at Nassau University Medical Center in New York. It was here that he trained under the prestigious Long Island Plastic Surgical Group – the largest and oldest private practice group in the US
He has authored several papers in peer-reviewed journals as well as a chapter in a major textbook on facial aesthetic and reconstructive surgery. He has performed extensive clinical research in areas such as wound care and reconstructive microsurgery, both of which were presented on the national level.
He is actively involved in medical volunteerism and has made numerous surgical trips to Haiti with the non-for-profit organization Project Medishare.
Dr. Low has a special interest in breast cancer reconstruction and elected to spend a year on staff at University of Alabama at Birmingham (UAB) under the direction of internationally renowned plastic surgeon Dr. Luis O. Vasconez and microsurgical expert Dr. Jobe Fix. Dr. Low provides a broad range of breast cancer reconstruction including implant-based reconstruction as well highly specialized microvascular techniques such as DIEP, TRAM, SIEA, and TUG flaps.
Dr. Low returns to the area to provide the most advanced techniques in reconstructive surgery in South Florida as well as to offer a wide array of cosmetic surgery including facial aesthetic surgery, body contouring, and breast augmentation in Fort Lauderdale. Dr. Low joins Dr. Dreszer and Dr. Sassani at Take Shape Plastic Surgery, P.A. where the three continue to develop the practice based on the highest standards of patient care and surgical expertise.
Those interested can call 954-585-3800 for a free consultation for cosmetic plastic surgery in Plantation, Florida. They also accept most insurance plans for reconstruction surgery in South Florida and offer plastic surgery financing. Their website is http://www.takeshape.info.