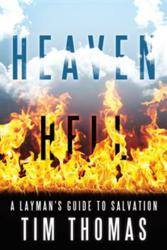 (PRWEB) August 31, 2012
TANEYTOWN, Md. – Tim Thomas sets out to lead readers on a journey that will take them toward a closer personal relationship with Jesus Christ in his inspirational new nonfiction, "Heaven Hell: … a layman's guide to salvation" (published by CrossBooks).
Written in layman's terms, "Heaven Hell" attempts to make a clear, compelling case for Jesus as the one and only path to eternal salvation. "He IS the way, the truth, and the life," Thomas writes.
Broken into three segments, "Heaven Hell" first addresses the concept of the Holy Trinity (father, son and Holy Spirit) and explains why Christianity is "the only religion that solves the problem of sin," according to Thomas. The book then goes on to recount the story of John Bynum's personal experience of heaven and hell, and the final section compares what souls experience in heaven versus those banished to hell.
Thomas says of "Heaven Hell":
"The goal of this book is very simple: to awaken the complacent to the terrors associated with eternal damnation. When it comes to the topic of Heaven and Hell, there are no shades of gray. It's either white or black. By not making a conscious decision to accept Jesus Christ as one's personal Lord and Savior, by default, one has accepted an eternal death sentence. The book attempts to 'make the case' for Jesus Christ in simple, but compelling terms. God fully intends for us to enjoy our short earthly existence, but it's imperative that we have a clear sense of priorities. Knowing that your eternal destiny is secure should be the highest priority of every human being."
About the Author
Tim Thomas, a seminary student at Liberty University pursuing a master's degree in pastoral counseling, is completing a successful business career. Raised and confirmed in the Lutheran Church, and a longtime member of the United Methodist Church, he brings an informed "layman's" perspective to the most important choice facing every human being.
CrossBooks, a division of LifeWay Christian Resources of the Southern Baptist Convention, is a Christian publishing imprint committed to bringing more Christian voices into the publishing industry. Established authors, first-time authors, and authors anywhere in between can meet their goals and fulfill their vision for their books by publishing with CrossBooks. CrossBooks' innovative style of publishing blends the best of traditional and self-publishing. While our authors contribute monetarily to cover the cost of publishing, we maintain a strict moral and quality standard that every manuscript must meet for us to publish. For more information on publishing your Christian book with CrossBooks, log on to crossbooks.com or call 1-866-879-0502.
###