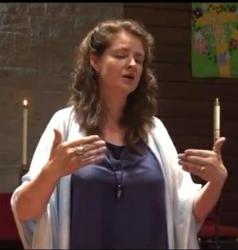 Belfast ME (PRWEB) August 31, 2012
"I would like to talk to my husband" she said. "If he calls in the next minute you can" replied the doctor. So began the mothering journey of healing music artist Amy Robbins-Wilson. Her son was born nearly 6 weeks early and was nearly lost before his life could begin. The next day, when she was able to hold her son for the first time, she was so grateful that she made a promise to use her talent to help other families in similar situations.
Since that time, she has released a book supporting new mothers and three CDs. In 2010, her family represented Children's Miracle Network Hospitals as their "Champion Family" for the state of Maine and in 2012 St. Jude Children's Research Hospital selected one of her original songs, Angels Watch Over My Baby, as part of their national television fundraising effort. Now Robbins-Wilson is set to offer live online healing music circles for families with children in the neonatal intensive care unit (NICU).
"My son almost died twice before he was two," says Robbins-Wilson. "I know what it is like to parent through the shock of the NICU and to sing lullabies through 'hospital vacations.' It can feel like no one else really understands. My mission is to create an online space where parents, grandparents and friends with babies in the NICU can come and find a few minutes of peace and understanding during this hugely stressful time."
Healing Music Circles are 20-25 minute musical performances that can be viewed on computers, iphones, or iPads. "We want to make these available as widely as possible. If a parent is in the NICU waiting room, they can stream it on their smartphone or iPad."
"What an amazing time we live in!" says Robbins-Wilson. "Just imagine people from all over the world gathering together to focus on love and healing and supporting each other. What a blessing."
Healing Music Circles for families with healing children will be streamed live on AmyRobbinsWilson.com. The first circle is scheduled for September 9 at 1pm EST. Interested people can sign up at the website to be emailed about future scheduled events.
These healing music circles are being offered on a donation requested basis so that hospitals can offer the live stream and families who live in different parts of the world can come together and comfort each other without financial limitations."
For streaming schedules, promotional posters that can be printed and shared, and to participate in these healing circles or to make a donation, you are invited to AmyRobbinsWilson.com.
**
Amy Robbins-Wilson, MA is the author of Transformational Mothering- A Prayerful Companion for New Mothers and the creator of four albums of music which are available from CD Baby, Amazon, iTunes and other leading etailers. She also offers Healing Music Circles for those who have lost a child at http://www.AngelBabyLullabies.com For more information about Amy Robbins-Wilson and her Healing Music Circles visit http://www.AmyRobbinsWilson.com