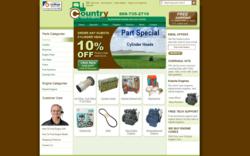 Unlike most dealers, we stock a full line of OEM Kubota engines, engine parts and remanufactured engines, and now, our customers can order them online. This means faster turnaround time and a reduction in downtime for our customers.
Orrville, Ohio (PRWEB) August 31, 2012
Country Sales and Service, LLC launches its new ecommerce website (http://www.kubotapartsdealer.com) to better serve its customers with knowledgeable support and a large online inventory of Kubota parts and engines.
"We've been around since 1996 serving customers throughout the United States and North America. But now, we're even more accessible 24/7 to our customers. Our advantage over other Kubota dealers has always been the fact we stock a full line of Kubota new engines, remanufactured engines, and engine parts," said Scott Schlabach, general manager of Country Sales and Service LLC. "Our customers can order in stock parts online and have them delivered quickly."
Scott went on to say, "In addition, our new website will promote awareness about some of the other things we can offer that will benefit our customers. For instance, we stock a full line of replacement engines and work with engines that are now longer available." He also added, "We can rebuild your existing engine in about 5 to 7 days, and that's fast turnaround especially if our customer has a piece of equipment down."
About Country Sales and Service
Since 1996, the team at Country Sales & Service LLC in Orrville, Ohio, has helped businesses repower new and old equipment and Kubota brand equipment. As an authorized Kubota Parts and Service Center, they stock and sell OEM Kubota Parts.