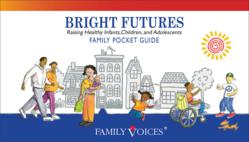 The Pocket Guide condenses important information, making it easy for families to use as a reference....(at) their children's primary care and dental appointments...

Sharon Esch, mother of two including a 6-year old boy with autism
Albuquerque, New Mexico (PRWEB) August 31, 2012
Here's what one parent said about this resource:
"The Pocket Guide condenses important information, making it easy for families to use as a reference. They can take the Guide with them to their children's primary care and dental appointments so they can ask questions of their providers and bring up concerns with confidence. In each section, the box titled "What's Important for This Visit" gives a great checklist that families can use to talk to their health professionals."
Sharon Esch
Mother of two, including a 6-year old son with autism, New Mexico
This 164-page book was developed for families by families, in partnership with the American Academy of Pediatrics (AAP) and other professionals, and based on the AAP's Bright Futures: Guidelines for the Health Supervision of Infants, Children, and Adolescents (3rd ed.). Bright Futures was recognized as the gold standard of pediatric care in the Affordable Care Act.
"The Bright Futures for Families Pocket Guide puts highly relevant health promotion material in an easy to use, accessible format. The guide facilitates communication between families and providers and strengthens parent-provider relationships."
Judith S Palfrey, MD
Mother of three children
Co-author, Bright Futures Editions 1 and 2
Former President, American Academy of Pediatrics
Former Executive Director of Michelle Obama's "Let's Move" Initiative
National Family Voices Executive Director Lynn Pedraza commented:
"Our work is all about families helping other families and professionals get the most useful information to best serve children with special health care needs and disabilities, and all children. The Pocket Guide is a great support in that effort: any family can use it to help their children be healthy and well at all stages of development. So, we hope to get this little book into the hands of as many families as possible to promote health and wellness for children everywhere. We have plans for translation, so stay tuned!"
Developed for families by families, the Pocket Guide provides families with:

Information and encouragement for the roles families play every day in the health and well-being of their children
Information about the importance of well child visits for all children, including children and youth with special health care needs
Encouragement to speak up to take active roles in their children's care
Encouragement to form partnerships with other families and with professionals to improve policies, care, services, and support for all children and families
An overall framework for children's good health and insight into all those who contribute to it
Current, comprehensive, succinct information about child development
Links to resources and further sources of information for children's good health
Health care professionals as well as parents are finding the Pocket Guide to be a valuable reference:
"I believe this is the standard for how we need to be promoting health and wellness, as health professionals and as families. The Pocket Guide makes a family's questions the #1 priority at each visit with a physician – and this is such a helpful approach for both the physician and the family. And it has the kind of resources at the back that physicians and families both tell me they need, very comprehensive, and right at their fingertips. All in all, it is fabulous little book with fantastic information."
Dennis Kuo, MD
Father of two children, including one with juvenile arthritis
Pediatrician at Arkansas Children's Hospital and Faculty at the University of Arkansas for Medical Sciences
Steering Committee Member, Arkansas Disability Coalition
Family-to-family support organizations are including the Pocket Guide as part of their information toolkit:
"This is a vital and user-friendly guide that helps us as parents and caregivers protect and serve our most precious assets, our children.
It has always been said that children, and especially children with special health care needs, do not come with instruction booklets! The Bright Futures Pocket Guide is as close as it gets. All families deserve access to this type of information that can help them assist their children in realizing their unique dreams and potential."
Gina Pola-Money
Mother of five children, two with special health care needs
Director, Utah Family Voices
Health insurance providers also note the value of the Pocket Guide:
"In this one handy, easy-to-read guide, multiple resources and pearls of wisdom are provided to help parents navigate the complex health care system. Raising children takes a lot of love and care, and the more information parents and families have, the better. I would encourage parents to take the time to review this information."
Eugene Sun, MD, MBA
Father of four children
Vice President & Chief Medical Officer, BlueCross BlueShield of New Mexico
Development of the Pocket Guide 2nd Edition was part of National Family Voices Project IMPACT, which works to promote health and wellness for all children. Leslie Carroll, Director of IMPACT commented:
"Family Voices IMPACT is working with families to access information that helps all of us, young and old, stay healthy and well. The Pocket Guide supports families with information that helps prevent childhood chronic disease and assists in creating healthy lifestyles that address all areas of health promotion, including nutrition, physical activity, positive mental health, oral health, and the other Bright Futures themes. The Guide does this with simple, practical, accessible tips for families and children, and also includes important information about health and wellness that is specifically for children and youth with special health care needs and disabilities."
For more information and to order copies of the Pocket Guide, go to http://bit.ly/BrightFuturesFamilyPocketGuideorders
For more information about National Family Voices please visit http://www.familyvoices.org or contact Melanie Rubin, Director of Communications, 505-872-4777, mrubin@familyvoices.org