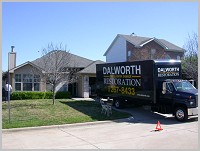 Flood preparedness should include having a battery-operated radio on hand for information and news about storm progression.
Dallas, Texas (PRWEB) August 31, 2012
Dalworth Restoration is deploying catastrophe-trained crews to combat Hurricane Isaac storm and flood damages to businesses and commercial properties in and around New Orleans. In response to the 60-80 mph wind gusts, intense rains and heavy flooding caused by the hurricane, Dalworth Restoration personnel, in semi-trailer trucks stocked with industrial capacity gear and equipment, are making their way to help with flood cleanup efforts. These crews are instrumental in natural emergencies, helping commercial clients with the creation and implementation of hurricane storm response plans, including pre-flood preparedness as well as post disaster damage assessment and recovery.
In hoping for the best, but preparing for the worst, Dalworth Restoration recommends that individual secure and board up personal as well as business properties, as the situation calls for in the affected area. Moreover, commercial property owners are advised to consult water damage restoration experts about minimizing storm damages.
Hurricane Isaac is classified as a Category 1 storm, belying its destructive force and impact to both coastal and inland areas. Although the hurricane largely sidestepped New Orleans, and although the reinforced $15 billion levee system in place provided protection from storm surges, flooding from heavy rainfall has been quite significant, contributing to substantial water damage and partially submerged infrastructure. In addition, swept away houses, power outages, high winds and downed trees in and around New Orleans require a massive concerted disaster recovery and flood cleanup effort.
The nature and magnitude of tropical storms can be fickle and unpredictable, changing course without notice and surprising everyone on land. As power outages are common in natural disasters, the importance of having access to relevant, life saving information cannot be overemphasized. Thus, in addition to stocking up on food, water, medicine, and other necessary supplies in preparation for a hurricane or tropical storm, Dalworth Restoration encourages individuals to have battery-operated radios on hand so they can tune in to local authorities for information and news about the storm's progression, evacuation routes and other important emergency instructions.
Dalworth Restoration is a professional residential and commercial water damage restoration company, in business since 1976. Its successful response to prior disaster recovery efforts has earned numerous industry awards as well as praise from peers and clients alike. The company services commercial and industrial customers as a result of both natural disasters and accidental loss due to fire, vandalism, storm, and water damage emergencies. To reach flood cleanup and water damage restoration crews, call 1 800 497 6118. Dalworth Restoration is licensed, bonded and insured for the consumer's protection and peace of mind. Moreover, the company is a member in good standing of the Better Business Bureau (BBB), Institute of Inspection, Cleaning and Restoration Certification (IICRC), Disaster Kleenup International (DKI Commercial Services), and Restoration Industry Association (RIA).
For information about Hurricane Isaac water damage restoration and flood cleanup services, visit http://www.dalworthrestoration.com or call 1 800 326 7913.
Press Contact
Shane Hobbs
Dalworth Restoration
http://www.dalworthrestoration.com
1 800 326 7913
1 800 497 6118