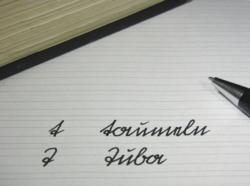 (PRWEB) August 30, 2012
Picture this scenario: while cleaning out their home attic an individual finds a dusty box shoved in a corner. Inside, they find documents with old handwriting, which they think is German, but like nothing they have ever seen. Curious to know what these letters of their ancestors were about, the person attempts to find out how to translate the documents and finds that it is written in an old German language unknown to them.
A History of Sütterlin
In the past, all German writing was done in what is now known as German script or Sütterlin. However in 1941, this script ceased to be taught in schools, instead replaced by the modern German alphabet. While most Germans eventually adapted to this change, many of the old writing found is still in the Sütterlin form and thus is relatively unreadable to us.
With the growing popularity of families looking into the past to gain more knowledge of their ancestors, people are continuing to find that they do not have the resources needed to understand the alphabets and scripts used in old languages. As a translation company, Metascriptum aims to help customers with German backgrounds to better understand their heritage.
The Metascriptum Method
One of the new services offered by Metascriptum is the translation on old German script directly into English. Due to its growing popularity internationally, Metascriptum.de has decided to expand its services in order to best serve all its customers and provide a one-stop place for you to translate your old German documents into a readable format.
Metascriptum works by requesting customers first send in a one-page copy of their documents to be translated. This way, Metascriptum can accurately give a free quote for their services. Pricing depends on a number of factors including the number of pages in the document as well as the language that you would like the documents transcribed into.
Metascriptum typically charges between 4 and 8 cents per word for their services. Additionally, Metascriptum offers discounts on easily readable documents, therefore making their job less challenging. As a result they pass these savings along to you, the customer.
The Usefulness of Transcribing in the Workplace
In addition to transcribing for personal use, Metascriptum also works to transcribe historical documents for business and museums. With this, Metascriptum offers the highest quality and accurate work to ensure it meets the important standards of each institution. For larger documents, Metascriptum offers businesses a discount on all documents over 5 pages long. This means that books and long scripts can be affordably translated to help future generations value the writing of the past.
ABOUT METASCRIPTUM
Metascriptum is a small, specialized company, which strives to allow customers to be better able to read the scriptures of their ancestors. They feature free quotes and fast customer service. For more information visit them online at http://www.metascriptum.de/ and look for the 'In English' Page located in the right hand menu.