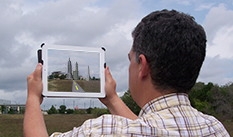 (PRWEB) August 31, 2012
Guidelight Business Solutions announced today that it has completed the first stage of development on its mobile augmented reality (AR) platform. Guidelight's new platform serves as a project accelerator for companies striving to stay ahead of the curve in the mobile AR space.
This industry is expected to see a sharp rise in both usage and revenue over the next few years, as cited in a recent report from Juniper Research. The briefing indicates that AR technology will generate $2 million in 2012, but will jump to as much as $1.5 billion by 2015. The report also projects global revenues from an increasing number of leading brands, retailers and mobile vendors investing in mobile AR applications and services to more than $5 billion by 2017.
Guidelight CEO George Stevens comments, "Even while still in its infancy, trends in the successful use of augmented reality are already showing AR will be a significant aspect of the future of mobile marketing. Using mobile devices' on-board capabilities such as cameras, object recognition, and GPS and overlaying captured or manufactured data opens up limitless possibilities for putting interactive and highly compelling information in users' hands."
The platform was designed to help large companies offer immersive experiences ranging from marketing and branding campaigns to opening up a world of 3D, virtual-hands-on demos and personalized shopping environments. For places such as travel destinations or brick-and-mortar storefronts, the technology offers visually enhanced route planning, personalized traveling data, 360-degree virtual tours and more.
In keeping with Guidelight's 10+ years supporting early-adopter enterprises in capitalizing on various emerging technologies, the company's platform provides a toolset and methodology that brings companies up to speed quickly with mobile AR.
Stevens says, "Our history of innovation with image processing, and having created several patented technologies for digital imaging and stereoscopic measurement systems, makes our skill set extremely well-suited for this industry. We aim to bring a new dimension to mobile experiences while providing industry-leading technology and performance on a wide range of mobile devices." He adds, "We are seeing a sharp increase in the number of augmented reality applications being released into the market, and it looks to be only the beginning of an extremely fast-growing industry."
Guidelight Business Solutions is a global business and enterprise application development company based in Austin, Texas. To learn more, visit http://www.guidelightsolutions.com/augmented-reality.