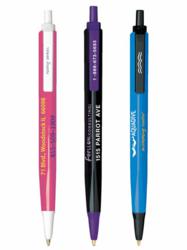 New York, NY (PRWEB) August 31, 2012
bicpromopens.com, the premier source for logo and advertising pens and pencils in the United States and Canada, is now offering free UPS ground shipping for all orders being shipped across North America. Many of these shipments can be delivered to addresses in the United States within 48 hours of the order being placed.
In these unsure economic times, companies are watching their bottom line more than ever, and need to save money wherever they can. Yet as the corporate world becomes more technology-focused, a customized BIC promotional pen or pencil is still an effective way for companies to reach out to their clients that makes them stand out from their competitors. However, while considering purchasing promotional pens, the cost of shipping can sometimes be an unpleasant surprise when a customer places their order. As part of our dedication to our clients, bicpromopens.com offers free UPS ground shipping with all orders, providing them with considerable savings that they can then shift to other company expenses.
bicpromopens.com offers a wide range of BIC products, from affordable BIC Round Stic and Grip Roller pens that start as low as $0.26 per unit, to laser-engraved carbon fiber and leather-finished executive pens for high-end clients. These quality pens and pencils are available in a number of eye-catching designs, constructed from materials including recycled plastic and wood for economy models, all the way up to steel, lacquer and chrome. Each design allows for selection of different colors for the barrel and trim, while imprinting of logos and information is available in up to 17 different ink colors. In addition to free shipping on all orders, many of these BIC promotional pens can be customized and delivered to any location in the United States within 48 hours.
For more information on how bicpromopens.com can help companies reach their clients with quality advertising pens while saving them the cost of shipping, call 1-888-844-7367 or order online at bicpromopens.com.
About bicpromopens.com:
In business for more than 35 years, bicpromopens.com has helped more than 300,000 clients increase brand awareness and customer loyalty through their high-quality products. bicpromopens.com offers the lowest prices on all its BIC promotional pens, and includes free UPS ground shipping on all its BIC pens order.