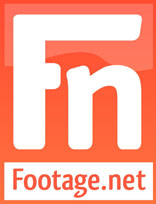 We're hoping that our iPad drawing helps add to the excitement. And if the winner wants to use his or her new iPad to search for footage on Footage.net, well, all the better."
New York, NY (PRWEB) August 31, 2012
Footage.net, an exhibiting sponsor at this year's WESTDOC, will hold an iPad drawing for conference attendees. To enter the sweepstakes, attendees just need to stop by the Footage.net booth, drop off a business card and then be on hand for the drawing on Tuesday evening at the WESTDOC cocktail party. More details will be available at the start of WESTDOC.
"We're thrilled to be a part of WESTDOC," said David Seevers, Footage.net Chief Marketing Officer. "The team at WESTDOC has been working very hard to make this a great event for both the documentary community and the production resources that serve them, and we're hoping that our iPad drawing helps add to the excitement. And if the winner wants to use his or her new iPad to search for footage on Footage.net, well, all the better."
WESTDOC: The West Coast Documentary and Reality Conference gathers producers and directors of non-fiction/documentary and reality television programming with executives who create such programs. Footage.net will serve as a "Marquee" sponsor across all platforms at the third annual conference being held Sept. 9-12 at the historic and remodeled Culver Hotel and the Pacific Theaters Culver Stadium 12 in Culver City, California.
Footage.net has grown rapidly over the last several years to become one of the world's largest and most comprehensive online stock footage resources. Footage.net provides creative professionals, including documentary filmmakers, archival researchers and non-fiction producers of all kinds, with the tools they need to discover and obtain the best motion content from the world's top footage companies quickly and easily from a single site. At Footage.net, researchers can search multiple collections simultaneously, view over 1.5 million clips, and communicate instantly with our content partners.
About Footage.net
Footage.net is the world's premier online resource for stock footage research. Since 1994, Footage.net has focused on meeting the needs of both footage users and footage providers. Today, Footage.net remains committed to helping users find the best footage as quickly and easily as possible; generating new leads and licensing opportunities for our member archives; and strengthening the footage licensing industry as a whole. Our dedicated search engine makes it easy for creative professionals to search 40 world-class footage collections simultaneously and view over 1.75 million clips, many of which are available for download. Our Global Search partners include some of the best-known companies in the stock footage industry, including Getty Images, FootageBank, Framepool, Historic Films and NBC News Archives, as well as some exciting new specialist collections, such as Skyworks, Critical Past and OceanFootage. Footage.net is also home to the Zap Email, used every day by creative professionals to send footage requests instantly to over 50 top footage providers. Whether they're up against a deadline or searching for an obscure clip, creative professionals rely on Zap Emails every day to initiate their footage research projects, providing our Zap subscribers with a steady stream of new leads.
About WESTDOC
WESTDOC: The West Coast Documentary and Reality Conference (Sept. 9-12, 2012) gathers producers and directors of non-fiction/documentary and reality television programming with executives who create such programs. Recognized as the premier conference of its kind on the West Coast, more than 100 industry speakers are expected to participate in the three-day WESTDOC 2012 conference consisting of panels, case studies, social events and exclusive networking sessions. More than 30 panels are planned regarding financing, conceiving and selling a documentary or reality TV one-off or series. Contemporary topics covered also will include distribution models from theatrical presentation to digital platforms.