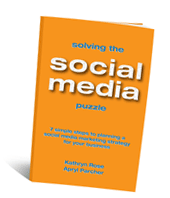 Chesapeake City, Maryland (PRWEB) August 31, 2012
Small businesses often have a difficult time navigating social media. However, two social media experts, Kathryn Rose and Apryl Parcher, teamed up to offer a new book that helps businesses plan an effective social media marketing strategy. Solving the Social Media Puzzle: 7 Simple Steps to Planning a Social Media Marketing Strategy for Your Business, shot to the top of two categories (Content Management and Marketing) on August 22, the day it was launched. It is receiving 5-star reviews from many small business readers and was also listed in Hot New Releases in both categories.
"Kathryn and I are very excited to have achieved the No. 1 ranking and are thrilled with the reviews we're receiving," explained Parcher, a content expert, social media strategist and speaker from Maryland who is launching a new social media consulting company, Anolee Marketing™.
"Our purpose in coming together on the book was to show businesses the importance of careful planning in their marketing strategies, and how it helps them overcome the confusion and stress surrounding social media's rapidly changing environment. Kathryn and I used our real-world experience helping both large and small businesses implement and grow their social presence, and we also gathered input from many other social media experts to round out the experience for our audience. It was truly a collaborative effort."
Solving the Social Media Puzzle is Rose and Parcher's first co-authored book and is available in paperback and on Kindle. Written with the busy business owner in mind, the book is easy to absorb, and the pair also penned a detailed companion workbook as well as a blog and social content calendar for 2012 to help readers build a solid social strategy. They are currently working on a content calendar for 2013.
"We released the 2012 content calendar as a free product before the book launched," noted Rose, also a sought-after speaker, social media strategist and CEO of The Social Buzz Club, a blog and social media content syndication service. "The response has been astounding. Hundreds of people downloaded the calendar and were clamoring for the book release, so we knew we were onto something. It's such a confusing environment out there that most small businesses have a difficult time keeping up. We wrote the book and workbook so that readers can walk away with a solid plan and not get distracted by all the hype surrounding social media marketing. We're very grateful to all those who have submitted reviews and helped with our launch—it's been a win-win for all involved."
Solving the Social Media Puzzle is available in bookstores nationwide and on Amazon.com, and the workbook and planning calendar can be found by going to http://solvingthesocialmediapuzzle.com.
About the Authors:
Kathryn Rose http://katroseconsulting.com is an award-winning author, social media keynote speaker and social media strategist and trainer with clients ranging from multimillion-dollar corporations, to small business owners and entrepreneurs. She has a 20+ year career in sales and marketing and has created successful communities for her clients totaling over 2 million fans, followers and connections.
Prior to her career in social media marketing, Kathryn was a top Wall Street sales executive, responsible for over $100 million in sales per year. A sought-after social media and relationship marketing speaker and trainer, Kathryn is also the CEO of the Social Buzz Club, the world's first online marketing collaboration network. She is the author of six books on social media marketing.
Apryl Parcher http://aparcher.com is an award-winning writer, speaker and a social media strategist with over 25 years of business experience in both retail and service sectors. She has written successful marketing copy for many types of businesses, from small organizations to Fortun 500 companies, and approaches social media from a "content first" perspective. Apryl conducts keynotes, seminars and training workshops for business groups on marketing and social media topics and resides in Chesapeake City, Maryland.