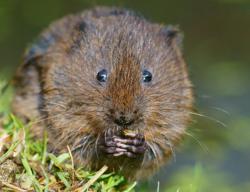 Sacramento, CA (PRWEB) August 31, 2012
Specialized Pest Patrol, the Greater Sacramento leader in vole extermination, is waging a war. With an extended summer this year, voles and field mice are out in force and rapidly multiplying. Homeowners throughout Sacramento and its surrounding areas are suffering from having their lawns and yards ravaged by these voracious eaters.
Don't let these cute furry rodents fool you for one moment. These tiny creatures are fully capable of decimating an entire yard overnight. Specialized Pest Patrol's trained technicians are capable of helping homeowners with voles and their destructive habits which rapidly spiral out of control.
Voles are commonly mistaken for mice, moles, and rats. With burrows throughout lawns and gardens, their exit holes can also be mistaken for a gopher's. Voles often go after plants with succulent root systems, bulbs being a favorite snack. Voles will also girdle young trees and shrubs, killing those as well.
Treatment for destructive voles comes with extraordinary service, experienced and knowledgeable technicians who are thoroughly committed to keeping your property vole-free. Specialized Pest Patrol is ready inspect, identify, and help protect your property against these unwanted invaders.
Specialized Pest Patrol maintains steadfast dedication to working with products which maximize the safety of humans and pets and to provide the absolute best service to customers. For more information on exterminating your vole infestation in your home or business, as well as other pest control services through Specialized Pest Patrol, visit http://specializedpest.com or call (916) 987-9559.