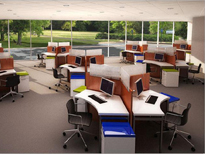 The world of work has changed and the companies of tomorrow will use this change to overtake the giants of yesterday
(PRWEB) August 31, 2012
Your Office Agent have always tried to be ahead of the workspace curve by offering the full range of workplace solutions from their online global listing of thousands of executive suites to consultancy on home working and mobile working techniques. This addition, however, of client locations and third place locations is in response to the 30 million Americans who spend a considerable amount of time working from locations other than just their home or office. These other locations are known as third place locations. These statistics by Gartner also compare to the 1 Billion mobile workers globally and the estimated 10% increase in this mobile workforce expected annually over the next 5 years.
Third place locations range from the predictable coffee shops to open areas in malls, libraries, the park and any other location where productivity is possible. Although many employers still worry about employees taking advantage of them, this myth has been debunked time and time again with all logic showing the opposite is true, with employees not only working harder but with fewer interruptions in non office locations. In the past much of this out of office work was done at employees houses but now that the home life has become as complicated as the work life these third places are becoming a more and more preferable solution.
Brian Mac Mahon from Your Office Agent stated that they are delighted to be able to offer all third place locations the ability to add themselves to the basic Open source database in Your Office Agent for a limited period for no fee. The whole team at Your Office Agent feel that its important that there is no barrier to every possible option being available to those Billion Mobile workers who want to find locations easily and without cost. To register a location or property just contact the team at contact@yourofficeagent.com or call 800 600 0881 . As always the person searching does not ever pay for this service and the site is full of free spaces and great deals on the more traditional executive suite and coworking spaces starting from $2 a day including internet and unlimited coffee in a professional office environment.
As technology is driving the mobile third place revolution its only right that this same technology should be the solution for finding it. Bookmark the http://www.yourofficeagent.com site for all your workplace needs and spend less time searching for that perfect place and more time enjoying it. Alternatively call the Your Office Agent team on 800 600 0881 and they will be happy to lead you though the multitude of options available all over the world.