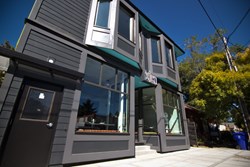 It's the ineffable and invisible that makes the restaurant feel so good – the nature of sound and air and comfort," said Thomas. "It isn't something you can quantify, but it's a core reason we build this way.
Portland, Oregon (PRWEB) August 31, 2012
Hammer And Hand's commercial remodel of Portland's new Mexican eatery, Xico, harnesses 21st century building science and high performance building techniques to reach new levels of efficiency and comfort in restaurant design and construction. The just-completed and opened space uses 60% less energy for heating and cooling than a conventional restaurant.
"The energy savings are tremendous and support Xico's greater sustainability ethos," said Daniel Thomas, co-owner of both Hammer And Hand and Xico. "But equally important is the quality of the experience inside the restaurant. We wanted to create a human space, where the nature of the air and atmosphere put you at ease."
The same high performance features that confer super energy efficiency on the Xico restaurant remodel also bring previously unattainable levels of comfort.
"People walk in and say 'it's so nice!' and probably ascribe it to their visual experience of the space," said Thomas. "But it's the ineffable and invisible that makes the restaurant feel so good – the nature of sound and air and comfort. It isn't something you can quantify, but it's a core reason we build this way."
Xico occupies the ground floor of the newly remodeled Glasswood Building on Portland's Southeast Division Street. The upstairs floor is now the nation's first commercial Passivhaus retrofit and houses Hammer And Hand's corps of building scientists and technicians.
Passivhaus certification (aka "Passive House"), the world's most stringent building energy standard, demands strict levels of airtightness and energy performance. For practical purposes it is impossible for a commercial kitchen to attain Passivhaus certification; the cooking energy demands and air exchange needs are simply too intense. But by employing Passivhaus design and construction techniques to the restaurant remodel at Xico, the project team still achieved revolutionary energy efficiency and comfort.
The design and construction of Xico incorporate these high performance building features:
1. Airtight, super-insulated building envelope to control heat, cool and moisture.
2. Advanced mechanical systems, including: (a) a balanced, high-capacity heat recovering ventilation (HRV) system that transfers heat (or cool) energy from spent exhaust air to fresh intake air, and; (b) a ductless minisplit system that provides heating (or cooling) at 200-400% efficiency.
3. High performance, fiberglass-insulated windows.
4. Variable-speed range hood with temperature sensors to allow hood fan to ramp up and down as cooking activity waxes and wanes.
"From the start, the chef, managers and owners at Xico were motivated by the desire to reach for the very best," said Thomas, "and this commitment to excellence was matched by the build-out of the space."
More about Xico is available online at http://xicopdx.com. For more about high performance commercial remodeling, visit http://hammerandhand.com/commercial.
About Hammer & Hand
Hammer & Hand is a construction company dedicated to inciting evolution in building through service, science and craft. The firm collaborates with clients and architects to build the best of the Northwest, from new custom homes, to residential remodels, to commercial renovations.
Hammer & Hand Portland
1020 Southeast Harrison Street
Portland, OR 97214
http://hammerandhand.com
(503) 232-2447
Hammer & Hand Seattle (at The Bullitt Center)
1501 E Madison St, #250
Seattle, WA 98122
http://hammerandhand.com/seattle
(206) 397-0558
About Xico
Xico focuses are fresh organic masa ground in-house, fresh handmade cheeses, chiles, chocolate, good beans, mezcal, sherry, wine and beer. They draw from the deep, broad cuisines of Mexico, and strive to provide exceptional, knowledgeable service in a lively, lovely dining room. Chef Kelly Myers and GM Elizabeth Davis are committed to serving flavorful, memorable food and drinks that delight. Menus, hours, reservations and more information at http://xicopdx.com. (503) 548-6343.