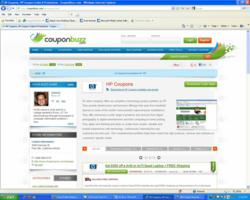 I am constantly impressed by the increasing number of tasks a printer like this can now accomplish...
Houston, TX (PRWEB) August 31, 2012
A new HP coupon is calling to all consumers currently cursing the weird gaps in their color print-offs. Now for a limited time, savvy online shoppers can utilize the HP coupon highlighted by CouponBuzz.com in their section dedicated to special offers from HP. A brand-new LaserJet Pro 400 M451nw Color Printer is now $100 dollars off standard retail pricing for consumers in the know. However, the coupon expires midnight on September 1, 2012, so in this case it's better to be the hare than the tortoise.
"The new LaserJet Pro 400 is an incredibly capable, state of the art printer," enthused Justin Bowen, one of the senior directors at CouponBuzz.com. "I am constantly impressed by the increasing number of tasks a printer like this can now accomplish, and how simple the interface is to use. In fact, within the next decade, I fully expect my printer to be making my coffee in the morning."
Interested consumers can read more here about the LaserJet Pro 400 M451 specifications, on the dedicated web page for HP coupons that CouponBuzz.com recently launched. The HP coupon for $100 dollars off the LaserJet Pro color printer can be found at the top of the tab titled 'printers.' All of the current special offers from HP specifically for printers and printing accessories are also found under this tab, which is the simplest way to sort for them.
The HP Laserjet Pro 400 prints at speeds of up to 21 ppm letter, and it prints in black for the same per page cost as a dedicated HP black and white laser printer. In addition, the Laserjet Pro 400 can print on an impressive variety of media sizes utilizing special tips and templates from HP to creating marketing materials and polished finished products. Its wireless connectivity makes it simple to print from anywhere in the office, and it features the popular HP e-Print technology. Incorporated auto-on/auto-off technology reduces energy consumption and HP smart-install can get the new printer ready to roll in no time. The $100 coupon for the HP LaserJet Pro 400 M451 color printer also includes free standard shipping, and a $10 dollar off coupon on HP toner. The coupon can be accessed on the dedicated HP coupon webpage at CouponBuzz.com, located here http://couponbuzz.com/hp-coupons.html.