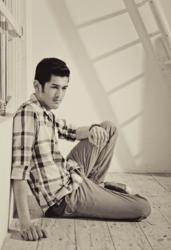 It didn't take long for this stunning looking model to find his confidence
London, UK, 31 August 2012 (PRWEB UK) 31 August 2012
We meet the newest male model on La Mode's books as they launch his new portfolio online today, and he's a boy who has just come of age with great expectations. Standing proud at 5 foot 10, this 21-year-old has got confidence in abundance and loves to learn about things that are strange or unusual to him. His brand-new portfolio is just launched by the commercial photography company, La Mode London, alongside others released on a daily basis.
"Alish is an extremely affable model who wasn't shy behind the camera," explains Helen Smith, director for La Mode London. "This was his very first photo shoot and here at La Mode we pride ourselves in making our new models feel at home. It didn't take long for this stunning looking male model to find his confidence and get into the groove of posing so quickly."
The team at La Mode see all types of models passing through their doors on a regular basis, with varying experience in the modelling industry. Their latest protégé had an excellent attitude towards the photo shoot, making it a very successful day for their photographers, beauty experts and for Alish himself.
When asked why he became a model, Alish said, "Everyone has to choose a career in his or her life and they choose their own field based on what they can put through. I want to be a model because I think I can do what it takes to be a model according to the person I am. I work hard and work good and try not to back-down, all I need is opportunities. Beside these entire things, people do say I'm photogenic and I look good." Not having any previous modelling work before, this was his first ever photo shoot and he thoroughly enjoyed it.
"The photo-shoot with La Mode was great. I gathered a lot of model advice and information about how it is like to be a model as there were four to five different photographers and also a senior model. They gave me a basic concept of how things work out in this modelling business," he explains. When asked about what he had learnt and could take away from the photo shoot, he said, "The thing I learned is 'hard-work' and 'dedication' is the key to success."
Alish keeps himself very active and certainly keeps his body in trim. He enjoys listening to music, playing games like chess, basket ball, table tennis, football and many more. He's a very sociable character and really enjoyed that side of the modelling industry. Above all, he enjoys making new friends.
Once each model has completed their photo shoot day with La Mode London, they receive their very own portfolio and accompanying website as well as any ongoing advice and technical support should they need it from the model advice company http://www.lamodelondon.com. Each website features the model's contact details, their vital statistics and a page dedicated to their photographs. Not only that but they also receive a page all about then, to give potential employers an insight into their character and personality - an added bonus La Mode say as it gives a little bit extra information, which can't be seen or read about simply through the visual photographs.
"Modelling is an extremely competitive market and also a very tough economic climate at the moment," says Helen. "We strongly believe here at La Mode, that having a portfolio and accompanying website is the best way to self promote. We've seen a lot of success this year with brand-new models gaining work simply because of the exposure we can give them with their portfolios. We wish Alish all the look in the world. We will certainly keep in touch and he knows we are only at the other end of the phone should he need any tips and advice regarding his modelling career."
See the brand-new portfolios as they happen on a regular basis by signing up to the newsletter at http://www.lamodelondon.com View Alish Giri's new website as it is launched today.