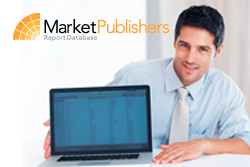 London, UK (PRWEB) August 31, 2012
Silicon carbide (SiC) is an upcoming alternative material to pure silicon in the field of semiconductors & electronics.
Currently, the overall SiC power semiconductors market accounts for less than 1% of the total power semiconductors market, but over the next decade, the entire base of power semiconductors & electronics players is expected to penetrate this new value chain, thereby rapidly increasing the percentage share. The global SiC semiconductor devices' market revenue is estimated to be roughly USD 218 million in 2012 and forecast to reach USD 5.34 billion by the end of 2022.
New market research report "Silicon Carbide (SiC) Semiconductor Materials and Devices (Discretes & Chips) Market, Global Forecasts & Analysis (2012-2022)" prepared by MarketsandMarkets has been recently published by Market Publishers Ltd.
Report Details:
Title: Silicon Carbide (SiC) Semiconductor Materials and Devices (Discretes & Chips) Market, Global Forecasts & Analysis (2012-2022)
Published: June, 2012
Pages: 456
Price: US$ 4,650.00
http://marketpublishers.com/report/industry/chemicals_petrochemicals/silicon_carbide_sic_semiconductor_materials_n_devices_discretes_chips_market_global_forecasts_analysis_2012_2022.html
The report is aimed at giving a complete bird's eye-view of the global SiC semiconductor market with highly detailed market segmentations, combined with high level qualitative analysis at each and every aspect of the classifications done by technology, polymer types, substrate technology, technology (process) node, product & device types, applications, and geography. To give a glimpse of the potential revenue base in the SiC industry and market, all the numbers, both revenue & volumes, at every level of detail are forecast till 2022. The study also gives the market dynamics by identifying the key drivers & restraints for the global market with analysis of trends, opportunities, winning imperatives, and hot issues along with Porter's five force analysis of the SiC semiconductor devices market.
Report Contents:
1 Introduction
1.1 Key Take-Aways
1.2 Analyst Insights
1.3 Report Description
1.4 Report Scope & Markets Covered
1.5 Stakeholders
1.6 Research Methodology
1.6.1 Market Size
1.6.2 Market Crackdown
1.6.3 Forecasting Model
1.6.4 Key Data Points Taken from Secondary Sources
1.6.5 Key Data Points Taken from Primary Sources
1.6.6 Report Assumptions
2 Executive Summary
3 Market Overview
3.1 Introduction
3.1.1 Global SiC Semiconductor Material Market Overview
3.1.2 Global SiC Semiconductor Devices Market Overview
3.2 History & Evolution
3.3 Design Architecture
3.3.1 SiC Semiconductor Chips
3.3.2 SiC Electronic Systems
4 Value & Supply Chain Analysis
4.1 Introduction
4.2 Industry Segments and Value Chain
4.2.1 Value Chain Analysis
4.2.2 Raw Material Vendors
4.2.3 EDA & Design Tool Vendors
4.2.4 Intellectual Property Vendors
4.2.5 Foundry Vendors
4.2.6 Fabrication Facilities
4.2.7 Integrated Device Manufacturers
4.2.8 Original Device Manufacturers
4.2.9 Original Equipment Manufacturers
4.2.10 Assembly, Testing & Packaging Players
4.3 Industry & Product Life Cycle
4.3.1 Epitaxial Growth
4.3.2 Wafer Bonding
4.3.3 Device Fabrication
4.3.4 Packaging and System Integration
4.4 Supply Chain
4.4.1 Supply Chain Analysis
4.4.2 Upstream Chain
4.4.2.1 Extraction of Silicon Carbide
4.4.2.2 Purification & Refining
4.4.2.3 Etching & Doping
4.4.2.4 Wafer Coating & Manufacturing
4.4.3 Downstream Chain
4.4.3.1 Device Fabrication
4.4.3.2 Cutting & Mounting
4.4.3.3 Assembly & Packaging
5 Market Analysis
5.1 Market Statistics
5.1.1 Global SiC Semiconductor Devices Market
5.1.2 Global SiC Semiconductor Devices Market vs. Overall Semiconductor Devices Market
5.1.3 GLOBAL SiC Semiconductor Material Market
5.1.4 Global SiC Semiconductor Material Market vs. Overall Semiconductor Material Market
5.1.5 Global SiC Semiconductors Market vs. Overall Semiconductors Market (Including Materials & Devices)
5.2 Market Dynamics
5.2.1 Drivers
5.2.1.1 Huge addressable market in high-voltage power semiconductor applications
5.2.1.2 Rising demand from applications in the military, defense & aerospace sector
5.2.2 restraints
5.2.2.1 Preference to GaN in normal-voltage semiconductor applications
5.2.3 Opportunities
5.2.3.1 Vast opportunities in the Automotive & Transportation sector
5.3 Burning Issues
5.3.1 Costlier Industry Processes
5.4 Winning Imperatives
5.4.1 Material Composition of SiC Devices
5.5 Porter's Five Force Analysis
5.5.1 Threat From New Entrants
5.5.2 Threat From Substitutes
5.5.3 Bargaining Power of Suppliers
5.5.4 Bargaining Power of Customers
5.5.5 Degree of Competition
...
More new market research reports by the publisher can be found at MarketsandMarkets page.