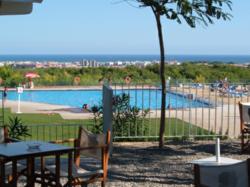 if they feel they are being ripped off they will simply book elsewhere
Bristol (PRWEB UK) 31 August 2012
EuroParcs research into camping holiday prices for next summer has revealed some bizarre pricing differences depending on which website and currency a holidaymaker books with. One of the UK's leading camping holidays brands has significantly different prices depending on which of their websites the customer books. For example on its UK website (.co.uk) a customer can book seven nights at Vilanova Park near Barcelona, Spain from 29 June 2013 in a three bedrooms mobile home with air-conditioning and decking for £736. On their Irish website (.ie) a customer can book the same holiday for just €713. That gives a customer booking via their .ie website an effective exchange rate of 0.97 €/£ when actual levels are around 1.26 €/£. So customers booking via .co.uk pay 30% more than those booking via .ie .
When Rod Jones, EuroParcs director, was asked to comment he said "It's simply unacceptable from the customer's perspective that a company charges a 30% supplement for the same campsite, same mobile home and same dates just because you book via a UK website and pay in sterling". Jones went on to say "We are a UK based camping holiday specialist, it is simply inconceivable we would charge a 30% premium to our UK customers compared to our Irish customers! Customers expect companies to be fair and whilst they understand there may be a small charge for exchange rate costs if they feel they are being ripped off they will simply book elsewhere".
It will be interesting to see if this bizarre approach to pricing in different currencies becomes a regular feature of some camping holiday operators and how long holidaymakers will put up with such unfair pricing.
About EuroParcs:
For 24 years EuroParcs have been providing quality campsite holidays in mobile homes at prices up to 40% less expensive than competitors at the same campsites. EuroParcs' 3 flagship campsites are La Garangeoire (Vendee), Le Ruisseau (Biarritz) and Vilanova Park (Barcelona) and customers have the choice of booking accommodation only or ferry inclusive packages