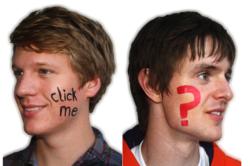 The opportunity to do something special was just too great
London (PRWEB UK) 31 August 2012
BuyMyFace.com is the brain-child of Cambridge graduates, Ross Harper and Ed Moyse, 22. For the last 335 consecutive days, the boys have sold advertising space on their faces as a tongue-in-cheek way of highlighting the student debt problem in the UK. After being contacted by students and graduates in similar situations all over the world, Ross and Ed have to decided to branch out their project. They have decided that their second year of operation will feature a new face each day – BuyMyFace.com will become a collaborative effort from like-minded people across the globe.
BuyMyFace.com has been online since 1st October, 2011. Since then, the story of Ross and Ed has been covered by a number of national and international media sources, giving the project somewhat of a cult following. As their first year comes to an end, Ross and Ed are very close to reaching their target of raising the £50,000 they need to pay off their student debt, and they are now looking to the future.
"We never planned to carry on painting our faces past our first year – BuyMyFace.com was always a year-long project. But we've received such a great response from people living all over the world that we felt the opportunity to do something special was just too great." (Ross Harper)
"Now we know BuyMyFace.com has a cool new purpose and its future is taken care of, we can focus on our next project – our new app developing company, Wriggle. We've been working on it in secret for a few months now and it's almost time for the grand unveiling." (Ed Moyse)
Ross and Ed's new app company is scheduled to release its first product this September. In spite of the various rumours that have circulated, the boys have kept their cards close to their chest and have given away very few details on the nature of their new app.
"All we can say is, it's a new take on social gaming, you can play online with your friends, and it will be integrated with Facebook. We've had loads of fun creating it and we hope our users will have as much fun playing it." (Ross Harper)