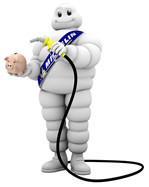 "Another great promotion from Michelin and Event Tyres"
(PRWEB UK) 31 August 2012
In past fuel promotions, Michelin have issued vouchers such as Love2Shop & Sainsbury's but this time they have made it even easier for the customer by issuing "Fuel Gift Cards" worth up to £50 which can be used in any petrol station that accepts MasterCard ®.
To qualify for a "Fuel Gift Card" customers simply need to purchase 2 or more Michelin Car, 4×4 or Van tyres and have them fitted by Event Tyres during September 2012 or October 2012. The value of the Gift Card varies depending on the rim size of the tyres purchased:

2 or more 13″ or 14″ = £10 Fuel Gift Card
2 or more 15″ or 16″ = £20 Fuel Gift Card
2 or more 17″ & above = £50 Fuel Gift Card
Customers purchasing Michelin Tyres from Event Tyres may also wish to take advantage of our "Buy Now, Pay Monthly" scheme which not only allows customers to spread the cost of their purchase across 12 months but also qualifies for the "Fuel Gift Card".
Event Tyres will provide customers with a claim form at the time of fitting that needs to be sent directly to the following address:
Michelin Fuel Promotion, Michelin Tyre PLC, Campbell Road, Stoke-on-Trent, ST4 4EY.
The closing date for receipt of claims is 30th November 2012 and Event Tyres recommend customers send their claims to Michelin by "Recorded Delivery"
About Event Mobile Tyres
Event Mobile Tyres specialise in the delivery, supply and fitting of tyres to UK motorists at their home or place of work. The company employs 42 staff and operate 30 mobile vans servicing customers nationally across the UK.