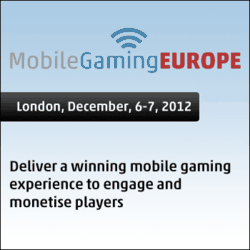 Gareth Edmondson, CEO, Thumbstar, says: "We expect the global market to grow by 50% in the next couple of years and the acceleration in the uptake of smartphones on a global basis to continue."
London, UK (PRWEB) August 31, 2012
Gareth Edmondson, CEO, Thumbstar, says: "We expect the global market to grow by 50% in the next couple of years and the acceleration in the uptake of smartphones on a global basis to continue."
But standing out from the crowd and making money is no mean feat, Edmondson adds.
"The real challenge is with discoverability. But we are also seeing the inevitable 'arms race' in terms of cost of development as hardware becomes more powerful, team sizes grow and customer expectation rises."
Premium VS Freemium
While there is still a place in the mobile gaming market for pay-to-play games, it's now largely a free-to-play business, says Edmondson.
"The last figures I saw suggested the Apple AppStore made 75% of its revenues from freemium games – customers are now so used to it."
Like any business, understanding your customers is crucial. And every customer differs in their habits, motivations, requirements and their ability to access technology, says Edmondson.
"Simple cultural differences in customers can make or break a product. The difference now with digital distribution is that developers can release a product in a market without the apparent need for local partnerships. However, this rarely yields success as the understanding of the market is left down to luck."
So, Thumbstar alter each one of their games for its specific target market.
It's not just a localisation issue, says Edmondson. "Our partners 'culturalise' the game according their better understanding of the customer - gameplay, reward systems, progression and so on, even getting quite deep into the gameplay loop.
"There is such huge variety across the global market, the importance of local partnerships and knowledge cannot be underestimated."
To support the growth of the mobile gaming market, Video Games Intelligence has organized the Mobile Gaming Summit (London, Dec 6-7) which focuses on how to engage and monetise players.
Built for pioneering companies from right across the mobile gaming industry, other confirmed attendees already include:
Publishers: Konami, Ubisoft, EA, Namco, Disney, Sega and Take 2
Mobile studios: PopCap, Big Fish, Neon Play, Spilt Milk, Mobile Pie, Handy Games and Glu Platforms/ mobile marketing / advertising: Metaflow, Xbox, Swvre, Sony Mobile and Flurry
George Kiley, Chief Editor, Video Games Intelligence says: "The future of mobile gaming hinges on the development of compelling games that optimise player engagement. So the London Summit centres on striking the balance between monetisation and engagement, not only in the UK but across multiple markets."
To learn more about the agenda, speakers and sponsors please click here to download the Summit Brochure: http://bit.ly/Pws2Mu
For more information and to book your place contact George Kiley at gkiley@fcbusinessintelligence.com,
or Tel: +44 (0) 207 3757545