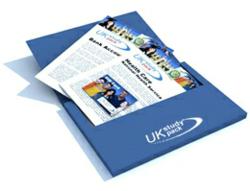 We are aware that many of the Chinese use mobile devices and we want to make coming to the UK as easy as possible for students.
London (PRWEB UK) 31 August 2012
This follows the announcement last month of a direct localised website presence in China.
UK Work Study supply a unique student and worker starter pack. The 'UK Study Pack' and 'UK Work Pack' includes a guide and application forms for opening a UK bank account before arrival, pre-paid MasterCard cash card, free international money transfer, a UK telephone number, comprehensive guides to Living and Studying or Working in the UK, travel essentials, National Insurance assistance and a number of other discounted items.
UK Work Study also partner with companies in other key areas such as visa assistance and application, accommodation, shipping, insurance, hotels and travel and university advice for students - providing discount with these partners and making great money saving opportunities for their customers. All of these areas can be difficult for a foreign visitor to organise before arrival, and both the stress and the time involved is reduced.
"We know that it is important for customers in China to be able to access web sites quickly and in their own language. We are also aware that the majority of the population use mobile devices – and it is our aim to make the UK Study Pack as accessible as possible, especially for the younger population. " says Beverley Nash, Director of UK Work Study.
"Our goal is to provide a fast and quality site. We have announced the UK Study Pack site first as being available on mobile devices, and this will shortly be followed with the UK Work Pack site.
We are very keen to work directly in the Chinese market. We have recently signed an agreement with a new partner – Unipacks – who work directly in China, and many of our other partners are looking to establish themselves in China. This site will make it easy for Chinese students, and then workers, to find out about us and make purchasing easy." says Beverley Nash.
"Both our Study and Work Packs make it easy for people to organise themselves in advance; banks and money are areas that many people worry about, and we can take care of those issues. We want to offer a specialist service to different countries, and this a step towards making it easy for people in their home country."
Customers can access the Chinese site using: http://cn.uk-study-pack.com.
UK Work Study
UK Work Study specialises in helping international students and workers prepare for their move to the UK. The UK Study Pack and UK Work Pack contains numerous items to assist in the move, this includes the setting up of a bank account before arrival, pre-paid cash card, a UK telephone number, free international money transfer, National Insurance number assistance, comprehensive guides to the UK and partnering with other specialist companies to cover all the key areas of moving and providing expert advice.
For more information visit: http://www.uk-study-pack.com or http://www.uk-work-pack.com or email info@ukworkstudy.com. The UK Study Pack Chinese site is: http://cn.uk-study-pack.com.