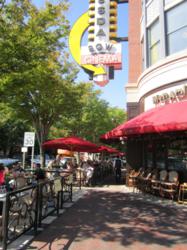 American Institute of Certified Planners (AICP) members can receive one free Certification Maintenance (CM) credit by attending
Bethesda, Maryland (PRWEB) August 31, 2012
Vibrant Streets™ a Bethesda, Maryland organization announced its fourth free webinar entitled: "Can Your Vibrant Street's Retail Be MIXED?" which will focus on how to create a vibrant mixed retail street.
Panelists will include James McCandless, Director of Retail at Streetsense, Stacey Price, Executive Director of Think Local First DC, and Heather Arnold, Director of Research and Analysis at Streetsense.
Webinar participants will gain insight on how to make sure their retail environment includes an appropriate mix of neighborhood-oriented, food-centric, and consumer goods establishments. Additionally, they will learn to use practical information to evaluate their local retail market. The webinar will discuss the ins and outs of commercial retail brokerage and why you might need to assume the mantle of "Neighborhood Broker" for your Vibrant Street. Finally, it will provide an overview of existing initiatives designed to entice, promote, and maintain specific types of retail along a Vibrant Street.
"Can Your Vibrant Street's Retail Be MIXED?" is the fourth webinar in the monthly Vibrant Streets™ webinar series that occurs the first Tuesday of the month. This month's webinar will take place Tuesday, September 4, 2012 from 12:00pm to 1:00pm EDT.
Economic development staff, retailers, planners, architects, developers, real estate professionals, and community advocates from over 65 municipalities and 30 companies have participated in the first three Vibrant Streets™ webinars. Earlier presentations are available online at http://www.vibrantstreets.com/webinars.html
American Institute of Certified Planners (AICP) members can receive one free Certification Maintenance (CM) credit by attending. Further information and registration is available at: http://vibrantstreets.com/webinars.html
About Vibrant Streets™:
Vibrant Streets™ is an initiative created to encourage successful, neighborhood retail environments "from the grassroots up." The original project behind Vibrant Streets™ was a DC version of the toolkit, created in partnership with the DC Office of Planning. The Vibrant Streets™ Toolkit can be used by retailers, businesses, merchants' associations, government agencies, neighborhoods, and community groups to make incremental, measured improvements in their commercial districts to attract shops and restaurants. For more information, visit http://www.vibrantstreets.com