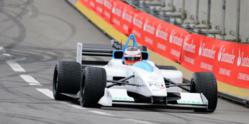 The year 2014 will always be remembered for the birth of electric racing.
Campbell, CA (PRWEB) August 31, 2012
MyPerfectAutomobile (MPA), a California-based news source for the hybrid, electric, and alternative-fuel transportation sector, covers breaking news on the green car front. Some of the top stories currently posted include the following:
When the final version of the U.S. government's fuel standard regulations came out this week, the Honda Civic Natural Gas car was one of the big winners. Previous versions of the legislation had excluded compressed natural gas (CNG) vehicles from the list of alternative fuel vehicles that can receive credits from the government. The credits help car makers offset their costs of production. Now that CNG vehicles are on the list, many industry-watchers expect other automakers to produce natural gas vehicles in the near future.
Full story:
http://www.myperfectautomobile.com/honda/honda-civic-natural-gas.html
An agreement between investors and a governing body in the world of auto racing will lead to the first Formula E, electric racing circuit in 2014, in which teams of drivers will compete on the streets of major cities. Some European government leaders look to an all-electric racing tour as one way to publicize the desirability of electric transportation. So far, at least 10 teams and 20 drivers have signed onto the inaugural event. A prototype electric race car has been created by Formulec. The car has a top speed of 140 mph and can drive for 25 minutes before needing a recharge. At 1,700 pounds, Formulec's EF01, as the car is called, can reach 60 mph in just three seconds.
Full story:
http://www.myperfectautomobile.com/featured/electric-racing-circuit.html
Buick has announced that its 2013 Regal will feature an eAssist power train as a standard feature. The company will discontinue its 2.4-liter base model, though non-eAssist drive trains will still be offered on both the Turbo and GS Regal cars. The new eAssist Regal will retail for approximately $29,000. The Regal lineup is one of Buick's most popular, having won two U.S. News awards for 2012, in the categories, Best Cars for Families and Best Cars for the Money.
Full story:
http://www.myperfectautomobile.com/general-motors/buick-regal-eassist.html
MPA's flagship website has grown into a major presence on the Internet. The site features a complete shopping mall as well as a free-to-list classifieds section for all things green.
For advertisers, MPA offers the chance to be in front of over 20,000 readers each month who are interested in hybrids and electric vehicles, as well as sustainable transportation in general.
Bob Twaalfhoven: President and Founder of MPA, is an MIT-educated engineer whose primary interest is planetary sustainability.
Larry Judkin, General Manger and Sales Coordinator, has tasked himself with taking MPA to the number-one spot among green transportation websites.
MPA's offices are located at 307 Orchard City Dr., Suite 210, Campbell, Calif. 95008.
For advertising opportunities, contact MPA directly: Phone: 408-963-6427
Fax: 408-963-6730
Email: driven(at)myperfectautomobile(dot)com
Web: http://www.myperfectautomobile.com