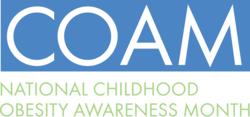 Indianapolis, IN (PRWEB) August 31, 2012
It's a rare point of agreement in a world of fractious issues – not a cause for celebration, but a rallying point for those who care about America's children and her future.
September is Childhood Obesity Awareness Month, and everyone from scientists to celebrities is looking for ways to build awareness and solve the problem.
Even in an election year, solving childhood obesity is a priority for some in Congress. Rep. Marcia Fudge (OH-11), sponsor of the original resolution declaring September 2010 the first National Childhood Obesity Awareness Month, said, "During Childhood Obesity Month, and throughout the year, we must focus on and remain committed to the needs of our children, ensuring that they have access to wholesome foods and safe environments for exercise and play. I am committed to the prosperity and health of our children, and will continue to advocate for them."
Olympic gold medalist Shannon Miller, a cancer survivor, is also a health/fitness advocate. She stressed the importance of helping children and youth meet physical activity guidelines. "I caught the gymnastics bug early and enjoyed participating all the way to the highest levels of the sport," she said. "That's a rare privilege, but all kids should be able to enjoy sports, exercise and physical activity, and stay active for life. Nutrition is a big part of staying fit and healthy, but so is being physically active. Let's help all kids enjoy exercise. It's one of the greatest gifts we can give them." Miller's video about COAM is online at http://youtu.be/8saR169Vosg.
Janet Walberg Rankin, Ph.D., is an expert in nutrition and obesity interventions and president of the American College of Sports Medicine. Dr. Rankin said, "Solutions to childhood obesity are as complex as the problem itself, and yet they begin with the fundamentals that science has revealed. Everyone needs good nutrition for good health, as well as a daily dose of physical activity. When these habits are ingrained in childhood, they tend to foster healthy lifestyles across the age spectrum. That means better health for the individual and lower health care costs for us all."
Tools for Action
Statistics on childhood obesity abound – and a few helpful ones appear in an online toolkit at http://www.coam-month.org, along with sample news releases, social media messages and letters to the editor. Concerned individuals and an array of public/private sector organizations are acting in support of Childhood Obesity Awareness Month, educating parents, policy makers and others about the problem and encouraging preventive action on childhood obesity. Mayors and governors have issued proclamations based on sample language in the toolkit.
Led by the American College of Sports Medicine, the COAM movement is diverse, inclusive and anchored by grassroots efforts. Those who support the notion that childhood obesity threatens both the nation's economy and the well-being of its citizens are urged to do what they can to raise awareness of the problem and share solutions.
Background
During the past four decades, obesity rates have soared among all age groups, increasing more than fourfold among children ages six to 11. More than 23 million children and teenagers (31.8 percent) ages two to 19 are overweight or obese, a statistic which health and medical experts say constitute an epidemic. Overweight or obese youngsters are at greater risk of cardiovascular disease, bone and joint problems, sleep apnea, psychological problems, bullying and more. The financial implications of childhood obesity are sobering, at $14 per year in direct health care costs alone.