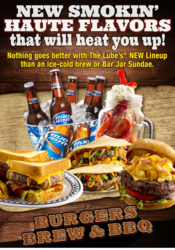 The Lube® is always striving to bring unique tastes that our guests will want
Sharon, PA (PRWEB) August 31, 2012
Quaker Steak & Lube®, known for its Best Wings USA and over 20 sauce varieties, will be launching its third limited time offer for 2012. The limited time offer will run September 11, 2012 through January 8th 2013 in all of the award-winning casual-dining concept's restaurants soon to be open in sixteen US states.
Themed "Burgers, Brew & BBQ," this limited time menu features hand-crafted burgers and southern inspired BBQ with bold smoky flavors. Created from The Lube®'s own staff Burger Contest with winners from the Robinson, PA, Canton, OH and Westminster, CO properties. For the BBQ lover in everyone, The Lube® is introducing two new savory sauces: the Soco Fiery Pepper BBQ and Smokin' Texas BBQ Lite sauce.
"The Lube® is always striving to bring unique tastes that our guests will want. In fact, our new burgers are inspired by some of our most loyal lubies," said Marla Pieton, Senior Director of Marketing at Quaker Steak & Lube®. "Burgers, Brew & BBQ continues our commitment to providing Lube Nation with bold foods that fit seamlessly with our brand."
Diners will find new choices on the limited time "Burgers, Brew & BBQ" menu featuring delicious edibles like the Mac & Cheezburger, Soco Fiery Pepper Smothered Chicken, Border Quesadilla Burger, Texas Cheeseburger Melt and the new Buckeye BBQ® Chips. Crispy house made chips with smokin' Buckeye BBQ® seasoning…a twist on the loved Buckeye BBQ® sauce.
Those with a sweet tooth can indulge with a cool Lug Nutz Caramel Pretzel Sundae or for the 21+ guests a Drunken Strawberry Sundae, both in "keep the glass" Lube Bar Jars!
For more information about Quaker Steak & Lube®, please visit quakersteakandlube.com.
About Quaker Steak & Lube®:
Founded in 1974 and built in an abandoned gas station in Sharon, Pa., the original Quaker Steak & Lube® began as a cook-your-own steak restaurant, before expanding to over 50 locations throughout the United States and Canada. The unique décor, including race cars suspended from the ceilings, motorcycles, Corvettes and gas station memorabilia, combined with the crave-able food and high-octane events has afforded The Lube® a cult-like fan following. Today, Quaker Steak & Lube® has become one of the fastest-growing restaurant chains in the country, and has won hundreds of national and international awards for its wings and 20 different wing sauces. Most recently it was named the Festival Favorite at the National Buffalo Wing Festival in Buffalo, New York. For more information visit http://www.quakersteakandlube.com.