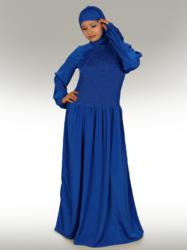 Any length, any size; we customize for you.
(PRWEB) August 31, 2012
MyBatua a leading online store for clothing and accessories has now become a one stop shopping place for Islamic fashion clothing. It is catering to all needs of online shoppers for Abayas, Jilbabs, Hijabs, Sherwanis and variety of accessories including brooches and unique handbags suitable for all occasions and weddings.
The popularity index of mybatua.com is increasing day by day due to its wide range of products and continuous inflow of new designs and collections. It has become shoppers' first choice to buy Islamic fashion clothing and designer hand bags at the right prices.
MyBatua have also renewed all the display of designs across their own range of Islamic fashion products. Pictures from different angles and zoom feature on product pages allow its customers to see all the details before making a decision to buy. Customers of mybatua.com get what they see online.
This has been a constant endeavor of MyBatua to introduce fashion forward and contemporary designs of its products. The new styles are always fashion-forward. Customers of the store are always coming back in search of new styles and designs to add to their wardrobes.
The store offers a unique service of customizing its products according to needs of customers. This service is offered on Abayas, Jilbabs and Sherwanis which are few among stores' primary products. There are various kinds of Islamic clothing & handbags which are available here. The size and length can be customized for a minimal or almost no extra charge. One can choose the right size, length and design pertaining to their taste and needs.
The Online store promises to have something for everybody's needs. These great new styles and more are available through the MyBatua online shop. MyBatua regularly keeps updating its customers through the social media networking sites like facebook, twitter and pinterest.
The team of designers at mybatua.com takes extra care in selecting the design, colors and materials for the products as all products are produced in house to ensure and maintain industry's high standards. MyBatua takes pride to ensure and offer quality products at very affordable prices. This is evident from stores' large number of returning customers.
True to its slogan that MyBatua.com is a one stop shop for Islamic fashion clothing offering something for all its shoppers.