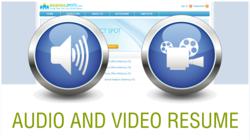 Dental professionals whose profile include a video or audio resume get far more views increasing their chances of landing a perfect job
Dallas, TX (PRWEB) August 31, 2012
Dental job seekers are advised that the deadline for entries to the DentalSpots.com video resume contest is quickly approaching. Although entrants have until midnight, central time, August 15, 2012, to submit a video resume highlighting their qualifications for dental assistant jobs, dental hygienist jobs or dental front office jobs, the company's founder advises against waiting until the last minute.
Feridoon Amini, founder of DentalSpots.com, advises dental job seekers to leave themselves time to produce a quality video to meet the deadline for the website's video resume contest. Not only will applicants have the opportunity to win cash prizes, but a well presented video resume might also help them land a job in the dental profession.
The video resume is one of the many features of the full-service dental jobs website that matches dental job seekers with dental practices. In order to encourage more job seekers to put their best presentations of themselves forward when applying for dental jobs, DentalSpots.com decided to sponsor this video resume contest. "It's simple really," said Amini. "Dental professionals visit the website, register, and create an online profile detailing their basic qualifications for a dental hygienist job, dental assistant job, or dental front office job. But what will really make their profile stand out is when they upload their video resume from the web or any mobile device including Android or iPhone."
DentalSpots.com will award cash prizes of $300 for first place, $200 for second place and $100 for third place to those entrants who post the top three video resumes to the dental job search portal. The contest is open to those seeking full-time, part-time or temporary dental jobs through the site. DentalSpots.com will narrow down the entries to the top ten video resumes based on personality, professionalism, and presentation. Dental employers will then be invited to vote for the top three finalists.
Once they are registered on DentalSpots.com, contestants have access to all of the site's dental job search features to apply for jobs. Prospective dental employers will also be able to view their information to fill any available dental job openings that may not be advertised.
Job seekers who are searching for dental assistant jobs, dental hygienist jobs, dental front office jobs, or dentist jobs are advised to begin working on their video resumes now to insure they have the best possible presentation ready by the application deadline. Amini cautions dental job applicants not to focus too much on production values, but to think of this as a job interview where they have the ability to showcase their personality and professionalism to potential employers.
DentalSpots.com was founded by Amini and his dentist wife, Dr. Mojan Safavi, to streamline the process of finding a full-time or temporary position in a dental office. Further information on DentalSpots.com or the video resume contest may be obtained by visiting the website at http://www.dentalspots.com, connecting on Facebook, following @DentalSpots on Twitter, or calling 1-800-971-8008.