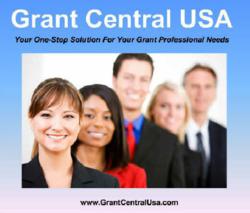 Grant Central USA provides a level of training we simply can't do at GrantStation, so it's very complementary.
Los Angeles, CA (PRWEB) August 31, 2012
Grant Central USA has recently joined GrantStation as a new partner in the Co-Branded e-Newsletter Program. Grant Central USA offers online courses that allow organizations to learn the art of grant proposal writing at their own pace through online and in-person courses.
"In today's tight economy, nonprofits are forced to buckle down more than ever with fewer staff to do more of the work. Yet small nonprofits must find a way to stay current and learn how to improve their grant proposal writing," said Rodney Walker, CEO of Grant Central USA. "That's one of the reasons we became a GrantStation partner. We want to deliver relevant grant announcements to the organizations with whom we work, at the same time offering a complimentary set of online grant writing courses via Grant Central USA."
"Over the past several years we've had more and more businesses, such as Grant Central USA partner with GrantStation. I think this sort of collaboration between businesses is a very good sign," said Cynthia Adams, President/CEO of GrantStation. "Much like the nonprofit sector, we can achieve more if we work together. And, Grant Central USA provides a level of training we simply can't do at GrantStation, so it's very complementary."
"We offer three courses," said Walker," basic grant writing for beginners, advanced grant writing, which is a fairly in depth eight part series, and a comprehensive course which we call our professional grant writing and coaching course." You can learn more about these on-line and on-demand courses by visiting the Grant Central USA program page.
If you have questions about Grant Central USA, please call 1-888-293-0284 or use the contact page available on the company's website. Online grant writing courses at Grant Central USA are an efficient and affordable way to immerse your organization in the world of grant proposal writing.
About the Company
Grant Central USA is a leading provider in the grant writing seminar industry offering both in-person and online grant writing classes. The company is based in Pasadena, CA and serves individuals and organizations nationwide to do a better job in writing grants that get funded. Learn more today about our grant writing certificate programs online today! For more information visit GrantWritingOnlineCourse.com or call 1.888.293.0284.