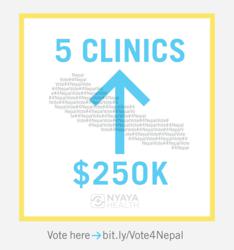 BOSTON (PRWEB) August 31, 2012
Beginning Sept. 6 and through Sept. 19, Nyaya Health will compete in the annual Chase Community Giving program, an online contest where supporters' votes could translate into five expanded clinics for people living in one of the world's poorest regions. Nyaya Health has been nominated for a share of $5 million in grants, which will allow the expansion of access to free health care to thousands in rural Nepal. Anyone can learn more about the organization's work at its website. Supporters are also encouraged to Tweet for Nyaya Health, either with the hashtag #Vote4Nepal or through the Community Giving Facebook page.
Nyaya Health is a charitable organization that believes the world's poor, including those in rural Nepal where Nyaya Health is based, have the right to quality health care. In addition to providing day-to-day care, Nyaya Health partners with government agencies to promote the creation of just systems and "infrastructure for equity," which creates the possibility for the right to health and sustainable change.
Nepal, one of the least developed countries in the world, ranks 139 out of 193 countries in life expectancy, according to the World Health Organization. Mothers and children regularly die in Nepal from conditions treated routinely in the United States. The rate of worm infestation in rural areas is 74 percent, leading to devastating rates of malnutrition. About half of children under five suffer from stunting.
"Winning this contest means we can expand our work to 5 clinics to provide health care to the world's poorest people," said Mark Arnoldy, executive director of Nyaya Health. "Help us make health care a right with a single vote."
The nonprofit is one of the world's most respected and impactful health care charities. Leading nonprofit evaluator GiveWell called Nyaya Health a "standout organization" because of its "unusual standards of transparency." Only 10 of the more than 800 organizations GiveWell examined received that distinction, and GiveWell named Nyaya Health a recommended charity for the 2011 holiday season.
Nyaya Health uses a forward-thinking model that's building sustainable, long-term infrastructure for health care in Nepal's Far-Western Region. In Nepal, 98 percent of Nyaya Health's staff is Nepali, and more than 80 percent of team members come from the Far-Western Region where the organization works. More than 101,000 people in the region have accessed free health care since 2008 thanks to the nonprofit's work.
"Nyaya Health needs your help to continue its mission of realizing health in the remotest part of the world," Arnoldy said.
For interviews with Executive Director Mark Arnoldy or for additional background on Nyaya Health or the contest, contact Erin White, erin(at)caminopr(dot)com, 212.255.2575.
###
Nyaya Health brings life-saving, quality health care to rural Nepalis by establishing hospitals and clinics and training community health care workers. The nonprofit, which re-opened the previously abandoned Bayalpata Hospital, has brought free health care to more than 101,000 people in Nepal's Far-West Region.