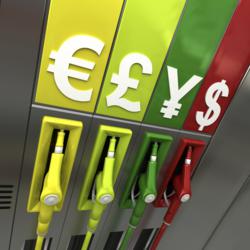 "Rising gasoline prices affecting a recovering economy are now the primary concern, while the potential impact of Hurricane Isaac on domestic energy infrastructure has been added to this list of worries."
London, UK (PRWEB UK) 31 August 2012
The White House has considered drawing from the Strategic Petroleum Reserve (SPR) for the second time in 2012, after withdrawals from the SPR were considered to counter the impact of the oil embargo on Iran earlier this year.
The SPR was established as a tool to provide the United States with strategic and economic protection against crude oil supply disruptions. Since 1991, during the first Gulf War, crude oil has been drawn twice from the SPR: after Hurricane Katrina in 2005, when approximately 25% of domestic crude oil production was shut in, and during the Libyan Civil War in June 2011 when the country's 1.8 million barrels a day of crude oil production was almost fully shut in. After the withdrawal in 2005, retail gasoline prices fell $0.90, only to return to the same level within months. In 2011, prices fell $0.70, and again returned to a similar price within weeks.
Speaking of the consideration to withdraw from the SPR, Matthew Jurecky, GlobalData's Global Director of Energy Research and Consulting, says: "Rising gasoline prices affecting a recovering economy are now the primary concern, while the potential impact of Hurricane Isaac on domestic energy infrastructure has been added to this list of worries."
GlobalData points out that the nationwide average price for regular gasoline has been near where it is now on three occasions over the last four years: in July 2008, May 2011, and May 2012. Prices dramatically fell in July 2008 due to the worst economic slowdown in decades, even as OPEC removed millions of barrels of daily supply from the market in an attempt to prop up prices. Since February of 2011, the nationwide average price for regular gasoline has remained between $3.30 and $3.90 per gallon and currently hovers around $3.80 per gallon.
"US crude oil inventories are currently above their five-year averages," says Jurecky. "Bakken crude oil continues to flood US crude storage hub Cushing, Oklahoma, now at 660 mbd, making North Dakota second only to Texas in US crude oil production. US gasoline stocks are also in line with the monthly average for August. Fundamentals do not suggest a need for an SPR withdrawal.
"The rise in crude oil prices, and consequently retail gasoline prices, was and is inevitable. The global economy is at one of its lowest points in decades and crude oil prices are still set to average a record high for 2012. As far as China is concerned, a slow year translates to 9.1% annual GDP growth, three times that of the United States - in a good year.
"Chinese crude oil consumption is higher than it has ever been, and will only accelerate as the global economy emerges from its slump. China is currently approaching 10 mmbd in crude oil consumption, which is just over half of US crude oil consumption (currently hovering around 18 mmbd). Chinese crude oil demand will accelerate dramatically as the global economy recovers.
"Oil fields are becoming more challenging to drill, so every barrel produced is more expensive. Mexico once had ample supply in shallow water fields; it is now drilling in deepwater. Mexico is the nation that supplies the most crude oil to the US, following Canada and Saudi Arabia. Production from the Arctic is on the horizon; harsh environment rigs are under construction, exploration programs are ongoing, and companies are positioning themselves to be first in line. There cannot be a harsher, more complicated environment in which to drill on the planet than the Arctic."
GlobalData also offered a reminder that while speculation undoubtedly influences crude oil prices, prices tend to only temporarily get ahead of themselves before quickly correcting. Short-term, prices rise and fall, but long-term, the trend is undeniably up. The current monetary policy of pursuing quantitative easing only accelerates the trend, devaluing the dollar and inflating commodities prices. Interestingly, as the administration considers a release from the SPR, the central bank is considering a third round of quantitative easing. Crude oil prices will continue to rise until there is an alternative source of energy with comparable productions costs – only at that point will crude prices break this long-term uptrend.