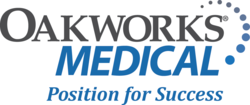 Stewartstown, PA (PRWEB) August 31, 2012
Oakworks CEO, Jeffrey Riach, was recently recognized by the Stewartstown Lions Club for his continuous support of Swing for Sight, a charity fundraiser of the Stewartstown Lions Club that supports ongoing involvement in improving and preserving eye sight.
The 13th annual Swing for Sight Golf Tournament was held on Friday, August 17th at the Pleasant Valley Golf Club in Stewartstown, PA. Sponsored by the Stewartstown Lions, the annual event supports the ongoing community service of the Lions Club International and their charities. Money was raised to support their contributions to community affairs and other humanitarian needs.
Oakworks supported the annual event, which attracted 130 golfers, through their major sponsorship contribution. Recognized for his continuous support of the charity event, Oakworks CEO, Jeff Riach said, "'We Serve,' are not just idle words. They are the embodiment of a spirit and generosity that has defined the Lions Club International for generations. It has been an honor and privilege for me, and the employees of Oakworks, to support their ongoing charitable efforts."
Oakworks has had a long history of supporting charitable causes, including ongoing collaborations with Skin Cancer awareness organization The World Skin Project, ecological agroforestry group Trees for the Future, and sustainable spa movement The Green Spa Network. Riach went on to explain that Oakworks is drawn to causes that support the massage, spa and medical industries that have been integral to its success. "Most companies don't look at the big picture when it comes to conducting business within their respective industries. They focus only on their bottom line, without considering the overall state of the industry itself. Oakworks as a company is built upon the idea that if you work to support the whole system, rather than just your immediate interests, you become an integral, irreplaceable part of that system." Riach said.
The Lions Club leadership commented that, "We look forward to continuing our tournament in our efforts to help others in whatever way we can while continuing to follow the Lions Club motto – WE SERVE. The ongoing support of Mr. Riach and other local community leaders makes it possible to continue our charitable efforts."
About the Stewartstown Lion's Club:
The purpose of the Stewartstown Lion's Club is to provide services to the community, to the visually handicapped, to persons with defective hearing, and in general to provide help to those in need. The motto of the Lions is "We Serve". For more information, visit: http://www.stewartstownlions.org
About Lions Clubs International:
The vision of Lions Clubs International is to be the global leader in community and humanitarian service. Their mission statement is to empower volunteers to serve their communities, meet humanitarian needs, encourage peace and promote international understanding through Lions clubs. For more information, visit: http://www.lionsclubs.org
About Oakworks:
Oakworks, Inc. is the premier manufacturer of medical, massage, wellness, and spa equipment in the U.S. with over thirty years design and manufacturing experience. With a 91,000 square foot state of the art facility located in Southern Pennsylvania, Oakworks is known for design innovation, sophisticated engineering, and quick turnaround time. Every table built in the modern manufacturing facility comes with the reliability that today's medical professional demands. Offering a unique commitment to U.S. manufacturing and environmental wellness, Oakworks is setting the global standard for medical, spa, and massage tables and accessories. For more information and their Sustainability Statement, please visit http://www.oakworks.com
Oakworks Medical collaborates with leaders in various medical specialties to create cutting edge table designs and patient positioning devices that balance the needs of both patients and practitioners. Oakworks Medical is ISO 13485:2003 certified. The ISO standard is intended to ensure that medical device manufacturers have the required quality management systems in place to safely design, manufacture and distribute medical devices. Oakworks Medical is committed to identifying the needs of customers and providing solutions that are cost effective. For all your exam and treatment needs, discover why Oakworks Medical is the table of choice for medical professionals around the world.
For more information, visit http://www.oakworksmed.com
For additional information on Oakworks and their products Contact:
Email address: info(at)oakworks(dot)com
Phone: 717.235.6807