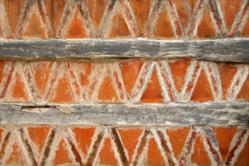 The curator's blog gives us an opportunity to honor the best work in our collection on a regular basis
Franklin Lakes, NJ (PRWEB) August 31, 2012
PrintedArt published the latest edition of its curator's blog exploring the theme of geometrical patterns from various different sources. This edition covers scenes and objects from all over the world that follow a common topic of geometrical alignment. The work is by both established and emerging photographers in the PrintedArt Collection and each piece is available as a float-on-the-wall panel face-mounted with acrylic for intense colors and archival quality, guaranteeing a minimum of 75 years of color stability.
"The curator's blog gives us an opportunity to honor the best work in our collection on a regular basis", said Klaus Sonnenleiter, president of PrintedArt. The pattern edition features Bruce Amos's Guatemalan Walls, Kim Wilson's concrete façade, David Halperin's vertigo-inducing shot from underneath a radio transmitter, Jack Aldrich's mysterious "Above", Paul Tillinghast's origami-style impression of a pelican and Mary Mullarkey's patterned roof of the Arbor at Brewster Park. The curator's blog is published weekly at PrintedArt.com
About PrintedArt
PrintedArt is a web-based fine art photography collection, hand-selected by our experienced staff of curators who have created a highly selective gallery for the home decor and hospitality markets.
Every image in the collection is produced in a modern gallery-grade display format with acrylic finish, as a gallery-wrap canvas panel or as a wall mural.
The PrintedArt Photolab allows customers to print their own images in the same professional quality as our fine art collection.
For more information, contact PrintedArt at info (at) printedart (dot) com or at +1 201 301 9113.