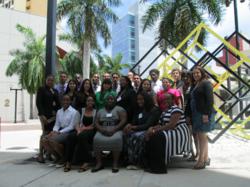 By adapting Year Up's proven approach to a community college-based program and working with pioneering institutions like Miami Dade, we'll be able to provide even more of these individuals with a pathway to a college degree and a fulfilling career.
Miami, FL (PRWEB) August 31, 2012
Addressing the critical role of community colleges in creating pathways to careers for young adults, Year Up announced the launch of its Professional Training Corps. (PTC) program at Miami Dade College, with classes beginning this week. Miami Dade College (MDC) has more than 174,000 students and is the largest institution of higher education in the United States.
"We're thrilled to be working with one of the most innovative community colleges in the country," said Lisette Nieves, Year Up's National Director of Strategic Program Pilots, who oversaw the launch. "This unprecedented partnership between Year Up, a high-impact organization, and Miami Dade College, a premiere institution of higher learning, is a combination of efforts that will be a model for nonprofit and educational institutions going forth in ensuring that young adults have access to opportunity."
"At Miami Dade, we're always looking for ways to bridge the Opportunity Divide facing so many young people in our city," said Dr. Eduardo J. Padrón, Miami Dade College president. "By partnering with Year Up to design and launch the PTC program on our Wolfson Campus, we're giving these students the credentials they need to enter successful careers in a knowledge-based economy, along with the necessary technical and professional skills to excel in the workplace."
Modeled after the Reserve Officers' Training Corps (ROTC), the PTC is a free program that will help students earn an associate's degree while providing them with professional development and work experience closely linked to labor market demand. PTC students will take community college courses and Year Up courses at Miami Dade's Wolfson Campus for one semester and will then participate in a six-month, full-time, credit-bearing professional internship in information technology. Students will receive 24 to 30 credits for the year as a stackable credential that will fully count towards an associate's degree, which they can complete the following year. Year Up announced its partnership with MDC at Clinton Global Initiative America, where its commitment to create the Professional Training Corps. was selected as an exemplary approach to overcoming challenges in the youth sector.
"Nearly one in five young adults in this country is disconnected from the economic mainstream," said Gerald Chertavian, Year Up founder and CEO. "By adapting Year Up's proven approach to a community college-based program and working with pioneering institutions like Miami Dade, we'll be able to provide even more of these individuals with a pathway to a college degree and a fulfilling career."
The PTC will incorporate the central tenets embedded in Year Up's core model: contextualized learning so that students understand the real-world relevance of their education; professional skills to help students succeed in corporate environments; attachment to the local labor market and stipends so that they can support themselves and their families while pursuing further education; high expectations that reflect the standards they'll encounter in the workplace; and the social and emotional support needed to persist.
Lauded by Presidents Barack Obama and Bill Clinton for its track record of success, Year Up is a national nonprofit organization that provides urban young adults with an intensive, year-long training program and career-focused education in growing professional industries. It helps "disconnected" young people not enrolled in school or participating in the labor market cross the Opportunity Divide to access living-wage employment and higher education. In turn, companies gain access to a pipeline of high-quality entry-level talent. For ten years, nearly four hundred employers, primarily consisting of Fortune 500 companies, have found added value in Year Up students as interns and permanent hires. Eighty-four percent of Year Up's alumni are employed and/or attending college full-time within four months of graduation, on a path to economic self-sufficiency. Chertavian describes Year Up's innovative, scalable model and impact on student lives in A Year Up: How a Pioneering Program Teaches Young Adults Real Skill for Real Jobs with Real Success.
About Year Up Inc.
Year Up's mission is to close the Opportunity Divide by providing urban young adults with the skills, experience, and support that will empower them to reach their potential through professional careers and higher education. Year Up achieves this mission through a high support, high expectation model that combines marketable job skills, stipends, internships and college credits. Its holistic approach focuses on students' professional and personal development to place these young adults on a viable path to economic self-sufficiency. Year Up currently serves more than 1,500 students a year at sites in Atlanta, Baltimore, Boston, Chicago, Miami, New York City, Providence, San Francisco Bay Area, the National Capital Region, and Puget Sound (Seattle). To learn more, visit http://www.yearup.org or http://www.youtube.com/yearupinc.
About Miami Dade College
Miami Dade College is the nation's largest institution of higher education with an enrollment of more than 174,000 students. It is also the nation's top producer of Associate in Arts and Science degrees and awards more degrees to minorities than any other college or university in the country. The college's eight campuses and outreach centers offer more than 300 distinct degree programs including several baccalaureate degrees in education, public safety, supervision and management, nursing, physician assistant studies, film, engineering, and others. In fact, its academic and workforce training programs are national models of excellence. MDC is also renowned for its rich cultural programming. It is home of the Miami Book Fair International, Miami International Film Festival, the MDC Live! Performing Arts Series, the National Historic Landmark Miami Freedom Tower, a sculpture park and a large art gallery and theater system. MDC has served nearly 2,000,000 students since it opened its doors in 1960.