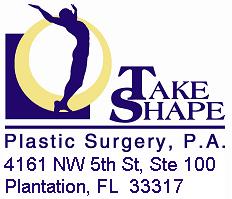 It is very important to me not only to be a very technically sound surgeon and up to date with the most innovative types of surgery and technologies, but also to be able to give the patient my full attention.
Fort Lauderdale, FL (PRWEB) August 31, 2012
George Dreszer, M.D., M.S. recenly spoke on joining the team at Take Shape Plastic Surgery in Fort Lauderdale, Florida. He brings a wealth of experience and training in plastic and reconstructive surgery to the group. He joins Dr. Russell Sassani and Dr. Christopher J. Low in continuing an established reputation providing superior results in cosmetic and reconstructive surgery in Plantation.
Originally from Bogota, Colombia, Dr. Dreszer has spent the majority of his life living and studying in various parts of the United States. He spent nine years in training and practices cosmetic and body contouring procedures, as well as, breast cancer reconstructive surgery. He strives to bring each patient the ultimate in modern care by providing the most up-to-date surgical techniques and innovative approaches to restore beauty, form and function to the face and body. This combination of experience and training uniquely allows Dr. Dreszer to offer his patients the full scope of facial and body aesthetic and reconstruction surgery in Fort Lauderdale.
After completing undergraduate studies at Harvard University Ext., and graduate studies at Georgetown University, he went on to graduate from Drexel University School of Medicine in Philadelphia, Pennsylvania in 2003. From there, he went on to complete a five-year general surgery residency program at St. Luke's-Roosevelt Hospital Center, a teaching hospital of Columbia University College of Physicians and Surgeons in New York City.
In 2012, Dr. Dreszer was awarded the James Barrett Brown Award, by the American Association of Plastic Surgeons. This award recognizes the best plastic surgery journal article of the year. He also co-authored a journal article that was awarded best clinical research paper of the year in 2011, by the prestigious Plastic Surgery Research Council.
One of Dr. Dreszer's passions remains participating in various mission trips around the world, where he provides his time and expertise to help under-privileged infants, children and adults in need of reconstructive surgery. He has travelled to Colombia, Equador and Peru with Rotoplast and other Plastic Surgery organizations.
Those interested in meeting Dr. Dreszer can call 954-585-3800 for a free consultation for cosmetic plastic surgery in Plantation, Florida. They also accept most insurance plans for reconstruction surgery in South Florida and offer plastic surgery financing. Their website is http://www.takeshape.info and they are located at 4161 N.W. 5th Street.